Olive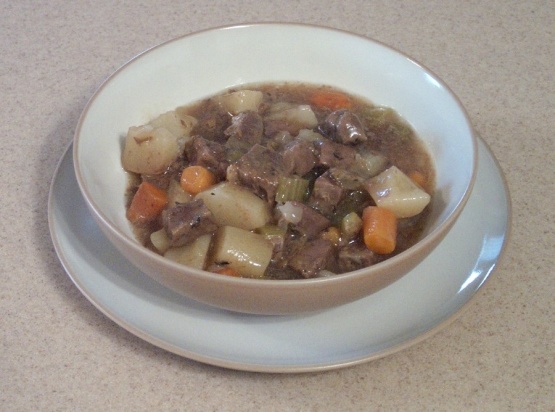 I found this recipe in a Marsha Adams cookbook and adapted it to suit my family's taste. It is perfect cold-weather food. My husband loves to come home to the aroma of this stew cooking! Don't let the long list of ingredients fool you, it is really easy to throw together.

Top Review by Olive
This is our favorite beef stew recipe too! It is delicious! I love Marcia Adam's cookbooks. I use to watch her cooking shows all the the time. The only thing that I do different is add 4 cups of organic beef broth instead of the water and bouillon cube. I also don't add the peas, tomatoes, & or allspice.
Preheat oven to 300 degrees.
Cut meat into bite-size pieces.
Cut potatoes into pieces a bit larger than meat.
Peel carrots and onion and cut celery, carrots, and onion into 1 inch pieces.
In a large dutch oven, combine all ingredients and bake for 5 hours in 300 degree oven without stirring.
I like to serve this stew with homemade buttermilk biscuits.