Bayhill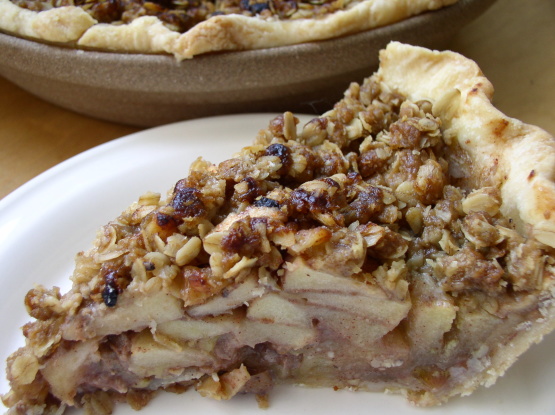 I made this apple pie for our church's homecoming and it was a sure hit! Really like an apple pie and an apple crisp in one dessert!

This is soooo delish! I couldn't fit 7 sliced apple in one pie, so had to adjust the recipe for that but otherwise OMG I love apple crisp but have a texture problem with apple pie (if it's slimy) and this is the perfect combo. Love it! I'm making it for my family thanksgiving tomorrow. Thanks for a great recipe!!
Place crust in 9-inch pie plate.
Toss apple slices with white sugar, chopped walnuts, 3 tablespoons flour, spices, and salt.
Transfer mixture to pie.
Melt butter and mix in oatmeal, 1/3 cup flour, brown sugar.
Sprinkle crumb mixture over apple filling in pie.
Cover pie edges with foil to prevent burning for first 25 minutes of baking.
Bake at 375 degrees for 50 minutes.
Remove foil from pie edges after 25 minutes of baking.
Cool and serve (solo or with ice cream).