Cottage Style Cucumber Salad
Parsley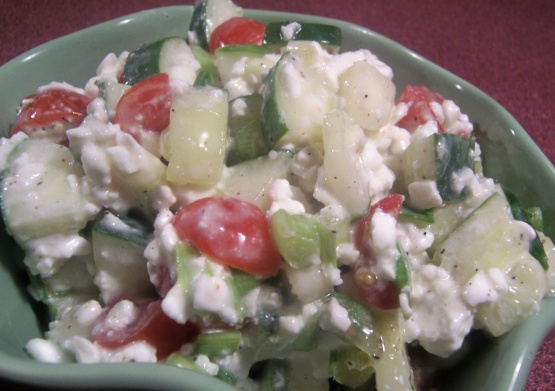 Here's a healthy, tasty & low-fat variation on a cucumber salad that provides the creamy texture w/o the use of mayo or sour cream. It uses cottage cheese to do that & my DH has come to like it nearly as well as the mayo or sour cream varieties. This works well as the salad part of a dinner meal, a light lunch & even travels well for a picnic or camping trip. Enjoy!

Reviewed for Best of 2008 Tag. This is so healthy and delicious! DH and I decided it would be nice to make to carry to work in our lunches. I used a leek (DH's favorite) but most any kind of onion would be nice here. I can't wait for summer tomatoes - they will be very special in this salad. Wonderful recipe twissis - thanks!
Prepare & combine all veggie ingredients. Add sugar & then seasoning salt & black pepper to taste.
Refrigerate 2 hrs to allow flavours to blend & pour off any watery liquid that has formed before final step.
Fold in cottage cheese gently, mix just enough to get a good distributional mix & serve immediately.
NOTE: Altho not part of the "basic" recipe, I often add diced avocado for its colour & complimentary flavour.