Cooking Light's Turkey Mini Meatloaves
Ms B.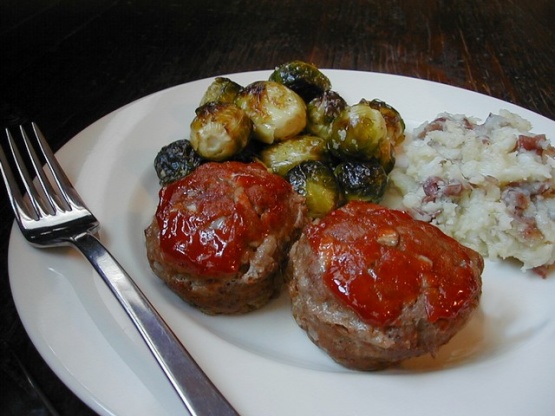 From the April 2007 issue of Cooking Light magazine. The recipe can easily be doubled to feed 6 (increasing the baking time to 45-50 minutes).

Thanks so much for sharing! I made this for my husband (need to feed him healthier & option can be limited!) & he liked it a lot. I used whole wheat panko, added cayenne & used dried parsley. Instead of onions, I used 1/4 tsp onion powder since he isn't a big fan. I didn't have a problem with overflowing juices but the baking pan was a good idea. I got 3 jumbo sized muffins out of this & he ate all of them! Hopefully he'll request this again because it was super easy, too!
Preheat oven to 350 degrees.
Heat a small skillet over medium-high heat. Coat pan with cooking spray. Add onion to pan; saute 5 minutes or until slightly browned. Remove from heat; cool slightly.
Combine onion, breadcrumbs, and next 7 ingredients (through egg white) in a large bowl.
Stir in 2 tablespoons of the ketchup.
Spoon about 1/2 cup of the meat mixture into each of 3 muffin cups coated with cooking spray; place muffin tin on a baking sheet. (This is necessary to keep the oven clean, as the juices of the meatloaves tend to bubble up out of the muffin cups and can drip on the floor of the oven.).
Combine remaining 1 tablespoon ketchup with hot pepper sauce in a small bowl. Brush ketchup mixture over meat loaf tops.
Bake at 350 for 30 minutes or until a thermometer registers 165 degrees.