Cookies and Cream Ice Cream
Bev I Am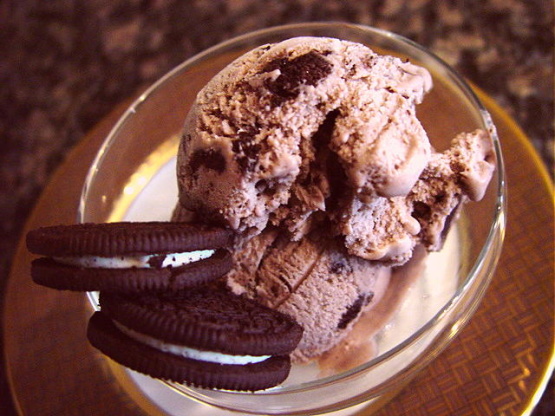 If you like Oreo Cookies you are going to love this! Making a cooked custard first makes this a quality, smooth and creamy ice cream. This recipe makes about 3 1/2 - 4 quarts of ice cream. I hope you will enjoy this!

This is a delicious recipe! Cookies & Cream is one of my favorite flavors, so I was happy to find this. I used a double boiler for the custard part, I find that helps keep the milk from burning, as well as the eggs from forming lumps when added. The only suggestion I have would be to wait until after churning to stir in the cookies by hand - by adding them as directed before churning the first time I made this, I ended up with brown ice cream from the cookies being pulverized throughout the churning time. Stirring them in by hand at the end only takes a moment, and leaves nice big chunks. Wonderful, easy recipe - thank you for sharing!
Combine sugar, flour (1/2 cup + 2 TBS) and salt in a saucepan.
Gradually stir in milk.
Cook over medium heat approximately 15 minutes or until thickened, stirring constantly.
Gradually stir in 1 cup hot mixture into the beaten eggs.
Add egg mixture to remaining hot mixture, stirring constantly.
Cook 1 minute; remove from heat.
Refrigerate 1 hour.
Combine whipping cream, half and half and vanilla in large bowl; add chilled mixture, stirring with wire whisk to combine.
Add crumbled cookies before freezing.
Freeze as directed using your ice cream maker manufacturer's directions.