Parsley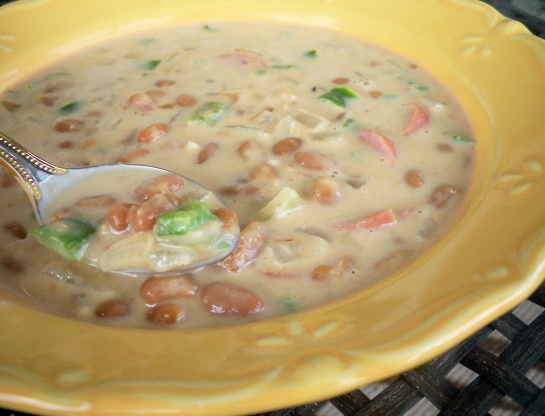 This recipe is attributed to Paula Deen, but I got it from another internet source. This soup has a bit of a sweet taste, so don't be surprised, but is a great, quick soup to make and delicious with some hot, crusty French bread.

Different, but very good. I should add that this whole recipe rides pretty much on the quality of the baked beans used, because that's where most of the flavor comes from. I used leftover homemade baked beans that were made with bacon. I used turkey smoked sausage just to lighten the fat a bit. Great use for leftovers! Thanx!
Melt the margarine in a large saucepan, then fry the bacon pieces in it until just beginning to crisp.
Add the garlic, onion and green pepper. Cook until the veggies are wilted.
Gently stir in the beans and sausage, and simmer uncovered for about 15 minutes.
Stir in the half and half, and simmer about 10 more minutes.