Coffee-Glazed Cinnamon Rolls
Annacia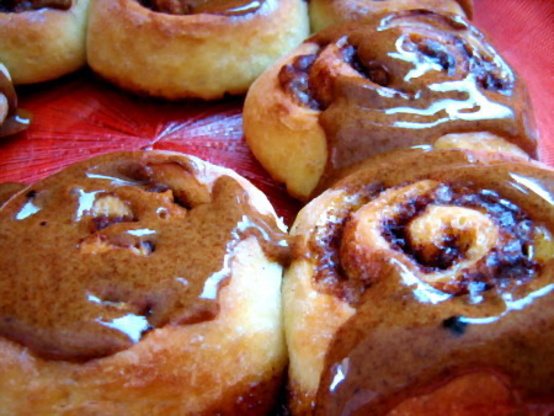 From Cooking Light's 1991 Annual Cookbook. These sound so amazing! You kind of need a large workspace when making these. I would suggest a jellyroll pan to roll the dough out on. Prep and cook time do not include the approx. 3 hours of rising time, but the 2 dozen rolls you get at the end should be worth the wait and work.

This was a delightful find. I only made 6 buns but I will be making this recipe again. This is already low in fat and sugar's but I used Splenda Brown Sugar Blend for the filling and based the glaze on the Splenda powdered sugar recipe. I LOVE the coffee glaze on them, what a wonderful difference. To be honest, my dough didn't like being chilled and refused to rise even a speck. When I took it from the fridge and it was still the same I just rolled it our very thin and made the rolled up buns. I then put the pan of rolls in the oven on warm for 1 hr. They had rose enough in that time for me to just turn on the oven and bake. I'll just skip the fridge time the next time I make these.
Dissolve yeast in warm water in a large bowl; let stand 5 minutes. Add eggs, milk powder, 2 TBL margarine, 2 TBL sugar, salt, and 2 ¼ c flour; beat at medium speed of an electric mixer until well blended. Stir in enough of the remaining 2 cups plus 2 TBL of flour to make a soft dough. Place dough in a large bowl coated with cooking spray, turning to coat top. Cover and refrigerate 2 hours.
2) Punch dough down; sprinkle 1 TBL flour evenly over work surface. Turn dough out onto floured surface and roll to an 18-inch square. Brush dough with remaining melted margarine. Combine brown sugar and cinnamon; sprinkle over dough.
3) Roll up dough, jellyroll fashion, starting with long side; pinch seam to seal. Cut roll into 24 slices. Place slices, cut side down in two 9-inch square pans coated with cooking spray. Cover and let rise in a warm place (85 degrees), free from drafts, for 1 hour or until doubled in bulk. Bake at 375 degrees for 15 to 20 minutes or until golden.