Coconut Green Curry Brown Rice
Rita~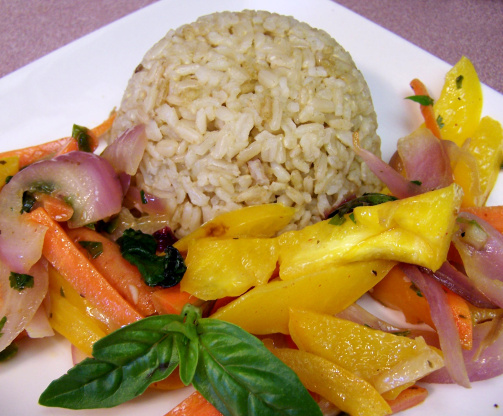 Terrific accompaniment to many Thai dishes, such as fish and curries or Caribbean fare. Washing off excess starch will result in lighter, fluffier rice) I don't measure with measuring cups my liquid in the rice cooker I use my thumb the amount of liquid should be one digits worth above the rice. BUT if not sure follow directions.

I did not use a rice cooker. I thought this had a nice flavor and went well with the tilapia meal I served. I used 1/4 cup of Recipe #39109 for the curry paste. I wish I had made the curry paste hotter as I think the added heat would be terrific in this. Next time I may stir in some sliced almonds right before serving for some crunch. Thank you for sharing your recipe! *made for the Thai Green Curry Game in the Asian Cooking Forum*
Add rice to cooker, stir in coconut milk, 2 sliced lime and curry paste the fill water or broth to marking that corresponds to the number of cups of brown rice used under "Brown Rice", or use the plastic measuring cup used to measure the rice and add 1-1/2 to 2 times the amount of liquid to rice. The rice should be completely submerged and leveled to ensure even cooking.
Close lid securely, plug in the rice cooker and press the cooking switch to start.
When cooking completes, allow the rice to "rest" for 15 minutes before opening the lid. On some advanced models, this is done automatically. Open the cooker and use the nonstick rice spatula to fluff remove lime slices and serve your brown rice with garnishes.
Top with cashews.
Garnish with remaining lime slices, green onions and or fresh basil.