Clean out the Fridge Pasta Sauce
katew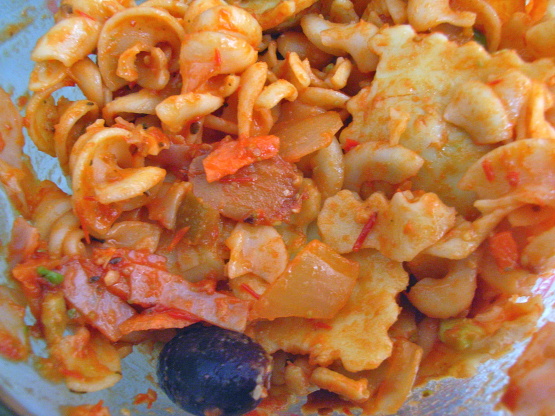 We're off on vacation, so we made this last night to use up a few things that would be science experiments if we left them in the fridge 'til we got home! 2 of us ate all of this, but you could stretch it out to serve 4 with a salad and crusty bread.
Heat the oil in a fry pan, add the onion and cook until softened (about 5 minutes); add the garlic and cook for a couple of minutes more.
Add the bacaon and cook a further 5 minutes, then add the wine, andchovies, capsicum, tomato paste, tinned tomatoes and olives and cook a further 10 minutes.
Just before serving, stir through the basil, black pepper, then serve over the pasta of your choice.
Sprinkle with grated parmesan cheese to serve.