Prep 21 mins
Cook 19 mins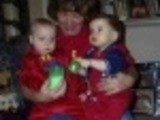 A teacher I taught with brought these to the teacher's lounge once and we all loved them. I got the recipe from her. When ever I take these some place they are so-o-o-o much enjoyed that I am asked to bring them again the next time. This has happened repeatedly with two different groups with which I have regular meetings.
Directions
In a small mixing bowl, combine the cream cheese, egg yolk and 1/4 C sugar; mix well.
Flatten bread slices with a rolling pin.
Spread cream cheese over each slice to within 1/2 inch of edges.
Roll up diagonally from point to point.
In a shallow bowl, combine the cinnamon and 1 C sugar.
Dip roll-ups in the melted butter, then in cinnamon-sugar mixture.
Place in an ungreased 15x10x1 inch baking pan.
Bake at 350 degrees for 16-19 minutes or until lightly browned.
Remove to wire racks to cool.
Most Helpful
So good. My one year old loved these...he couldn't stop with the mmmmm....'s lol. Thanks!

These are very tasty! I used the crustless bread, which made making this recipe a breeze. I was being very skimpy on spreading the cream cheese mixture at first because I thought that surely there wasn't enough mixture to go on all the bread pieces. Well, I was wrong and went back and slathered it on each piece! Delicious! I did expect these to be crispy, almost like they would be if you fried them, but they never did get that way completely. They had a thin crispy layer on the outside and the rest was soft and yummy! My kids devoured these!

I took this to our Christmas breakfast at the school where I teach and it was a hit. I had only one left, and it was quickly eaten by my son when I got home. And now I have to make another recipe so he has some to eat. Very good!