Chunky Chicken and White Bean Soup
Maiden77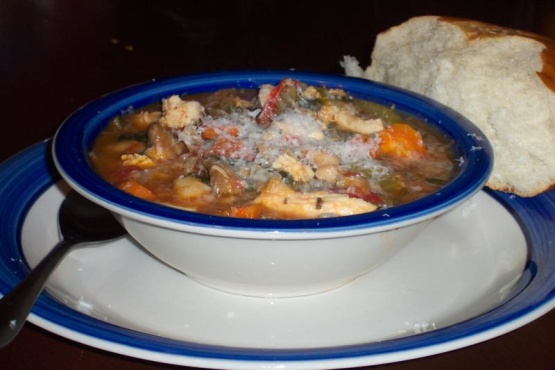 This is another one of those recipes that you can change-up how you want by adding different veggies. I tossed a Parmesan cheese rind into mine for added flavor but it can be left out and taste just as good. I used fresh spinach I chopped up into smaller pieces but you could use frozen also if you prefer. Just be sure to drain it well by squeezing it in a kitchen towel to force out the moisture (once thawed of course.) Then just chopped it up and add it in when you do the chicken. You can use fresh basil if you like, but just add it in when you add in the chicken to keep the flavor bright. I served it with a crusty bread, which I highly recommend to soak up the soup. It is pretty darn tasty!

This was a really great soup! I used orzo instead of beans, and only used about 1 teaspoon of dried basil.
59.16

ml olive oil

4

stalk celery, diced

2

onions, diced

4

carrots, peeled and diced

226.79

g small mushrooms, quartered (I use cremini)

29.58

ml tomato paste

4

garlic cloves, minced

0.5

ml red pepper flakes

2

(822.13 g) can diced tomatoes

1419.54

ml chicken broth

29.58

ml dried basil

1

parmesan cheese, rind (optional)

4

chicken breasts, boneless, skinless

473.18

ml spinach, chopped

2

(878.83 g) can cannellini beans, drained
salt and pepper
Heat oil in a large pot or Dutch oven over medium-high heat. Toss in the onions, celery, carrots, and mushrooms. Cook until the onions are translucent and the mushrooms are browned.
Add in the tomato paste and cook several minutes until it deepens in color. Add the red pepper flakes and garlic and cook 30 seconds.
Place in the tomatoes, broth, basil, bay leaves, and rind. Bring to a simmer before placing in the chicken. Cook for 15 to 20 minutes until the chicken is cook.
Remove the chicken to a cutting board and cool. Add the spinach and beans to the pot. Simmer for 15 minutes.
While the soup simmers shred the chicken into bite size pieces. After the soup has simmer 15 minutes return the chicken to the pot and simmer for 5 minutes longer. Salt and pepper to taste. Serve topped with shredded Pecorino Romano cheese or Parmesan cheese if you like.