Chow Mein - Your Choice of Meat
Jubes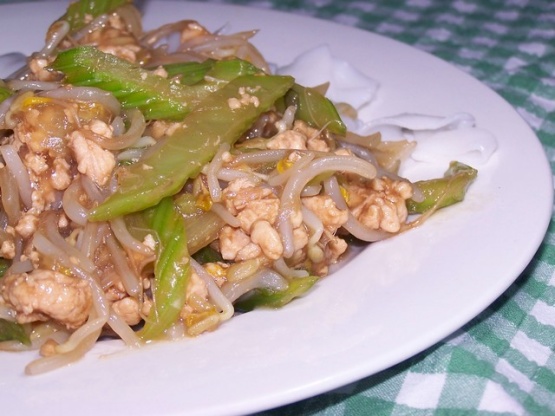 This is my recipe for Chow Mein. I can usually make this at a drop of the hat. If you have leftover meat from another meal, you can use it in place of the ground beef - about 2 cups of cooked meat. Also, if you use chicken, use chicken bouillon instead of beef. Most chow mein recipes have mushrooms, but I don't use them because of an allergy. This can be served with rice or chow mein noodles.

I chose this recipe because it most closely matched the ingredients I needed to use up. I had "lots" of fresh bean sprouts and celery and I didn't have a can of water chestnuts. I stir-fried the veggies until they were tender-crisp and removed them from the pan. I then browned the meat, added the veggies, water and seasonings and just let it thicken up. I did have to use an extra tablespoon of cornstarch, I think due to the moisture content from the bean sprouts. I also added a sprinkle of caramel color powder (available from The Great American Spice Company) for a nice dark color. It turned out delicious!! My mom used to make a similar dish, (I don't have the recipe) only I think she would use a can of bean sprouts and a can of Chinese vegetables. Thanks for the walk down memory lane. I will be making this again!!
Brown meat in a large skillet and drain.
Add 1 1/2 cups water, soy sauce, bouillon cube, celery, onion, bean sprouts, and water chestnuts.
Mix well, bring to a boil.
Reduce heat: simmer 15 minutes, stirring occasionally.
In a small bowl, blend cornstarch and 2 T water until smooth.
Stir into meat mixture; cook until mixture thickens and boils.