Sunnee50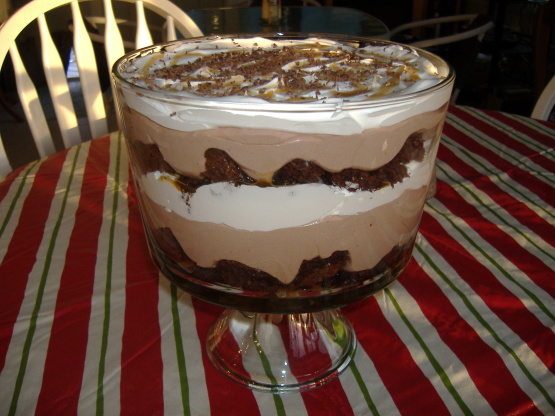 Ultra-decadent and ultra-easy! Break this one out on special occasions or when you want to wow a crowd! Prep time includes refrigeration time! recipe courtesy allrecipes.com

Top Review by Lorac
I know some people who would pay $$$ for this recipe! My husband took some to work today and let some one taste it - the next thing he knew his office was full of drooling co-workers. I made half the recipe using using broken up Oreo cookies instead of brownies. I made the pudding with milk and used Cool Whip instead of whipped cream. I only chilled it for 2 hours. My husband and son rated it as a 10 !!!!
2

packages brownie mix (or use homemade)

2

packages instant chocolate pudding mix

1

cup water

2

(14 ounce) cans sweetened condensed milk

2

(8 ounce) containersfrozen whipped cream, , thawed

2

(12 ounce) containersfrozen whipped cream, , thawed

1

chocolate candy bar (I use Lindt or Cadburry's: orange and raspberry flavoured work very well)
strawberries (optional) or cherries (optional) or raspberries (optional)
nuts (optional) or Heath candy bar, crunched up (optional)
Prepare brownie according to package directions (or use homemade), and cool completely.
In a large bowl, combine pudding mix, water and sweetened condensed milk.
Mix until smooth, then fold in the 2 containers of 8-ounce whipped topping until no streaks remain.
In a trifle bowl, place half of the brownies, half of the pudding mixture and half of the 12 ounce container of whipped topping (I have a big trifle bowl- you may need to cut recipe in half!).
If using any optional ingredients, place on top of brownie layer.
Repeat layers.
Shave chocolate onto top layer for garnish.
Refrigerate 8 hours before serving.
Note: You can use non-fat ingredients and never know the difference.