Chocolate - Peanut Butter Pie
Lainey39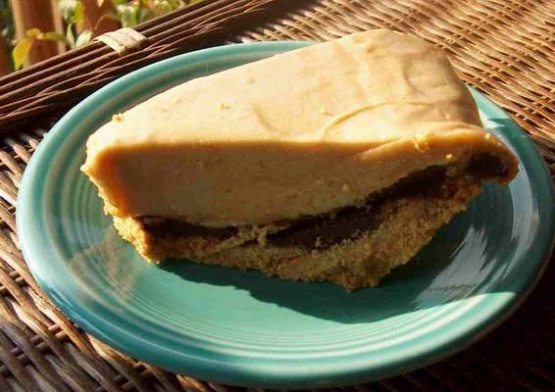 Another recipe from the Fiddlehead restaurant in Juneau! Incredibly rich, absolutely wonderful; this pie sends peanut butter fans into ecstasy. Prep time includes chilling time. This makes enough for two 9-inch pies or one large 10 inch pie...really depends on the depth of your pie plate.

Oh my!!!! This is literally FANTASTIC:) I promised myself to freeze one of the pies but it never made it to the freezer! This is soooo good and easy to make. Although it is hard to wait the four hours while it chills!
Crust:.
Preheat oven to 350°F and place rack in center of oven.
Combine cracker crumbs, brown sugar and melted butter in a deep 10-inch pie pan (or two shallow 9-inch pie pans).
Press evenly into pan and bake for 10-15 minutes.
Chill Crust.
Ganache:.
Bring 3/4 cup heavy cream to boil in small pan over medium-high heat, or microwave for 2-3 minutes, and pour over chocolate chips.
Whisk together until smooth.
Pour 1/2 of the chocolate mixture into cooked and cooled pie shell(s) and spread evenly over bottom. (Save the rest for the garnish).
Refrigerate.
Filling:.
In a large mixing bowl, with an electric mixer set on high, whip cream cheese and sugar until smooth.
Add milk, peanut butter, and vanilla.
Beat until well mixed.
In a separate bowl, whip chilled cream until stiff and fold into peanut butter mixture.
Spoon gently into chilled crust; using a spatula to smooth surface of pie.
Refrigerate for at least 4 hours.
Garnish with chocolate shavings, crushed peanuts, whipped cream or drizzle ganache over top.
Serve at once.
(Rumored to be even better the second day--like there is ever any left over!).