Chocolate Oat Bran Cake (Diabetic)
Annacia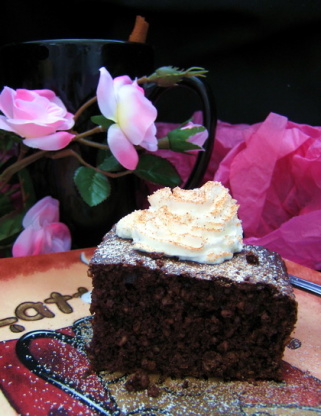 A healthy snack cake. Do NOT sub Splenda for the 1/3 cup sugar in the dry ingredients. The sugar helps keep cake moister. Eat plain or with a dollop of sugar-free Cool Whip.

I made this to fulfill a request for a bran birthday cake. Test run of recipe as written, subbing sugar for splenda (using 2/3 cup sugar total) as diabetes is not a concern and splenda is pricey, and using whole-wheat flour. As is, the cake was incredibly dry, but still tasty. Good for snacking or breakfast but not dessert-like. For the official birthday cake, I again used all sugar, adding an additional 1/3 cup for one cup total, used half all-purpose and half whole wheat flour, and added an additional egg and 1/3 cup more oil. Frosted with cream cheese frosting, sprinkled with walnuts and sliced almonds. It was amazing! Seriously, one of the moistest, yummiest chocolate cakes ever. When I make it again I will only use 2/3 c sugar, the addition was unnecessary.
Mix lightly, in a mixer bowl, the oat bran, water, egg, oil, Splenda, extracts, and vinegar. Let stand 30 to 45 minutes. DO NOT SKIP THIS STEP!
Preheat oven to 350°F Coat a 9-inch square cake pan with non-stick cooking spray.
Stir remaining dry ingredients together in a separate bowl to blend well.
Add dry ingredients to bran mixture and mix at medium speed about 1 minute.
Spread batter evenly into prepared cake pan.
Bake for about 35 minutes, or until cake tester comes out clean from center.
Cool on wire rack. Cut into 16 squares.