jcolette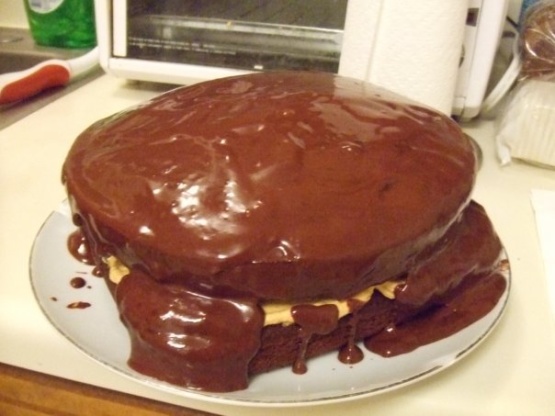 This recipe came out of a Better Homes and Gardens magazine and it is one of the prettiest and best-tasting cakes I've ever made

Thank you! I tore this recipe out of the Better Homes and Gardens Magazine in 2006 to make for my daughter's birthday, which happened to fall on Thanksgiving that year. It was such a huge hit, I've been making it every year since. When I went to pull it out this year, I could find only the page with the picture, not the actual recipe. My daughter, age 111) suggested "researching it on the net" Since I had the magazine page with the date, I was able to go right to this recipe because of the description. My family will be thrilled that the recipe was not lost forever! BTW, my cake has looked like both these pictures. I find that it helps to let the chocolate sit and thicken. And don't spread it, let it move slowly towards the edges of the cake. Thanks again!
Preheat oven to 350 degrees.
Grease (and flour) two 9"x1 1/2" round baking pans.
Combine and whisk all cake ingredients BUT flour and cocoa powder.
Add flour and cocoa powder and whisk until even.
Spread evenly into the two pans.
Bake for 30-35 minutes until top springs back or toothpick comes out clean.
Let cool.
In a medium bowl, whisk together Pumpkin Cream Filling ingredients. (Make sure cream cheese is soft enough so you don't end up with cream cheese chunks!).
Spread Pumpkin Filling on top of one cake and top it with the other.
Boil whipping cream over medium-high heat.
Remove from heat and add chocolate, DO NOT stir.
Wait 5 minutes until chocolate is melty, then stir until smooth and chocolate is liquid.
Wait until glaze has thickened (10 minutes) and then pour over top of cake.
Refrigerate cake or let set until glaze is fairly solid (15-30 min).
OPTIONAL: top with seasonal berries or nuts.