Chocolate Cream Cheese Pound Cake
Such a delicious recipe. I personally think the batter itself tastes just like oreo cookies. Can be eaten plain, or i'll even warm up a container of store bought cream cheese frosting and glaze it all over. Also can try dusting it with powdered sugar Serve warm or room temp.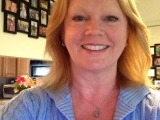 Turned out gorgeous! I made this to give away actually to my sisters and they give it 5 stars. It's "extremely moist and chocolatey without being overpowering" is what I was told. I couldn't taste test because of medical issues going on right now. But i feel confident in the fact that the sister who gave it such high lauds is a choco-holical-connoiseur. LOL, does that make sense? This cake is awesome, to say the least. Thank you butterflyness!
Place a rack in the center of the oven and preheat it to 325°F Lightly mist a 10-inch tube pan with vegetable oil spray, then dust with flour.
Place the cake mix, cream cheese, water, oil, sugar,eggs and vanilla in a large mixing bowl.
Blend on low speed for 1 minute.
Stop the machine and scrape down the sides.
Beat 2 minutes more on medium speed.
The batter should look well-combined.
Pour in the pan and bake 58 to 62 minutes or until the cake springs back when lightly pressed and is just starting to pull away from the sides.
Remove cake to wire rack and allow it to cool for 20 minutes.
Run a long sharp knife around the edge and invert it onto a rack.
Then invert it onto another rack so the large side is up.
Makes 16 servings.