Chocolate Cinnamon Muffins
vrvrvr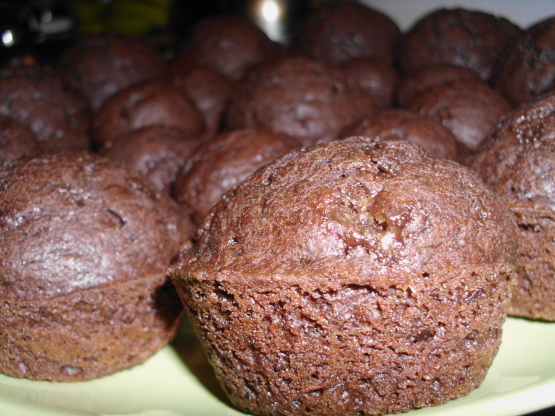 Adapted from the book "1 Mix, 100 Muffins".

These are divine! I doubled the amount of cinnamon and used Hershey's Special Dark cocoa. I loved that these are not overly sweet. Rather, they are dense, dark and chocolatey with just a slight sweet taste. Like a muffin, and not a chocolate cupcake, which is exactly what I was hoping for. These also have a gorgeous texture and freeze well.
Preheat oven to 350°F.
Grease a 12-cup muffin pan or line with 12 muffin paper liners.
Sift together the flour, cocoa, baking powder, cinnamon and salt into a large bowl. Stir in the sugar and chocolate chips.
Lightly beat the eggs in a large bowl, then beat in the milk and oil.
Make a well in the center of the dry ingredients and pour in the beaten liquid ingredients. Stir gently until just combined; do not overmix.
Spoon the batter into the prepared muffin pan. Bake in the preheated oven for about 25 minutes, until well risen and firm to the touch.
Let the muffins cool in the pan for 5 minutes, then serve warm or transfer to a wire rack and let cool completely.