Chicken Tortilla Soup With Avocado
loof751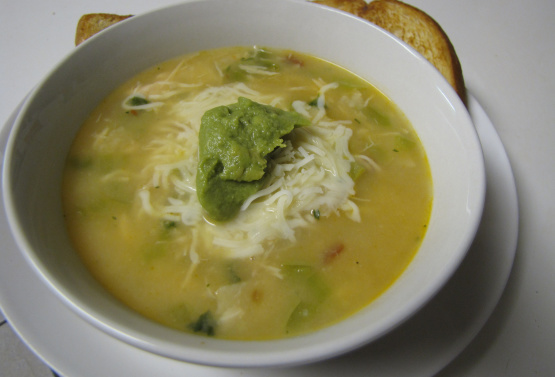 This is a smokey tortilla soup! You can keep the seeds in if you enjoy the heat. Adding more Adobe sauce will give it more smokiness and flavor. So cook to your taste buds.

Tasty, quick and easy soup! I don't care for onion so subbed a green pepper. We like things spicy so I used the whole chipotle, seeds and all. I had some guacamole on hand so topped with that instead of avocado. Loved this soup - thanks for sharing the recipe!
Heat a medium saucepan over medium-high heat. Add the water, onion, and celery and cook until slightly tender, about 3 minutes.
Add the chicken stock, chicken breast, and chipotle, bring to a boil.
Add the tortillas and cilantro. Stir to mix. Ladle into 4 bowls, sprinkle with cheese and top with equal amounts of avocado.