ImPat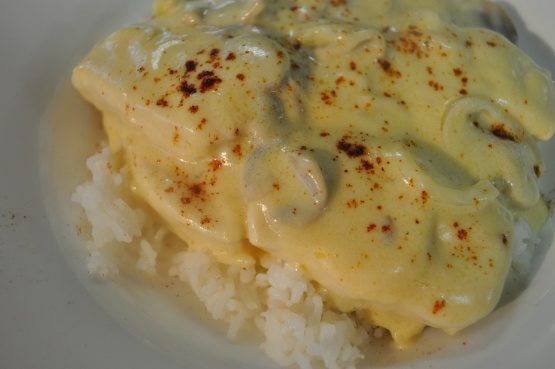 For those who do not eat red meat like my husband. This is a traditional family recipe with a twist. My husband loves it.

This was so good, and so easy! I'm really surprised that there aren't more ratings. I was looking for a chicken stroganoff recipe that didn't use cream of mushroom soup. Actually, I didn't use mushrooms because I was out and didn't realize it until it was too late. Next time I'll use the mushrooms too. Thanks for posting!
Cook noodles using package directions; drain well. Cover to keep warm.
Mix 4 tbs flour with the salt and pepper in a bowl and mix well.
Add chicken and toss to coat.
Heat 2 tbs. butter in large skillet over medium heat until melted.
Cook chicken in the butter, stirring frequently, until browned, about 6 to 8 minutes.
Stir in mushrooms and onion. Cook, stirring frequently, for 4 minutes.
Remove chicken and vegetables with a slotted spoon in to a bowl and reserve pan juices in skillet.
Add remaining flour, butter and dry mustard to reserve pan juices and mix well.
Gradually, stir in broth. Cook stirring frequently for 3 minutes. Stir in sour cream and ketchup.
Return chicken and vegetables to the skillet. Stir until heated through; do not boil.
Spoon chicken sauce over noodles and serve.