Chicken Scampi from the Farmer's Henhouse
Deb G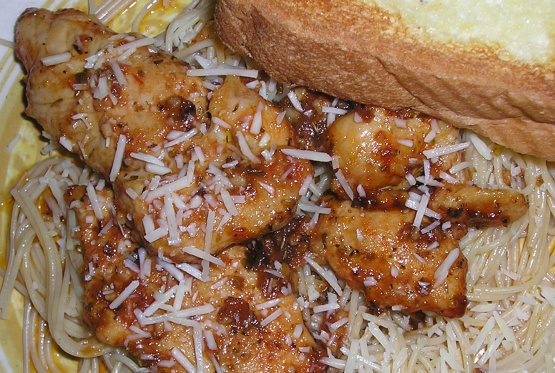 Since we raise and butcher our own fryer chickens every summer, I'm always on the look-out for new, easy, and delicious chicken recipes to pass along in the newsletter we send our customers. Well, this one is going into the hall-of-fame recipe book at our house! Add more garlic to give your tastebuds and nosebuds a real boost--it just gets better and better. A hearty thanks to the folks at Gooseberry Patch for another fabulous recipe!

Top Review by Deb G
My picky chicken eater (DH) went for seconds of this, so that tells you how delicious it is! I omitted the dried parsley (didn't have any), and I did not cut up the chicken before I started cooking it. I turned it every 15 minutes, and after 30 minutes, I cut each breast into 4 pieces, made sure the chicken was well coated in the sauce and let it set in the oven (which I had turned off) while I cooked the pasta and rolls. This was just because sometimes I don't feel like handling/cutting raw chicken. We will definitely have this again, and with hot weather coming, I am sure I will cut the pieces first and shorten the cooking time to that of the recipe. Glad you posted this delicious recipe.
Preheat the oven to 450; grease a 13x9 pan.
In the pan, combine everything except the pasta and cheese.
Bake for 12-14 minutes (chicken should be white inside).
Serve over pasta, sprinkle with cheese.