Olive Garden Chicken Scampi Yummy! - Copycat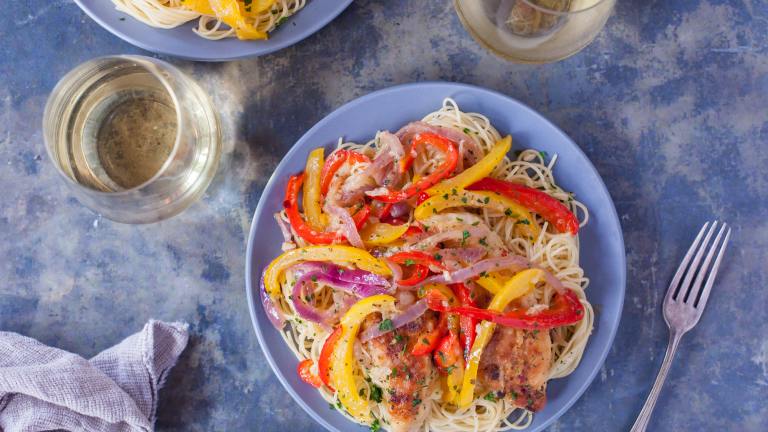 This is just as good as the Olive Garden. On a difficluty scale from 1-5 this is a 3 to make. We just love it! Please note: this is an adopted recipe and I hope to make it soonest. If you make it before I do than I would appreciate your feedback. Thanks ! ZWT REGION: Italy.
Ready In:

3hrs 52mins

Serves:

Units:
Nutrition Information
directions
For white sauce: Heat 1 tablespoons butter in sauce pan, add 2 tablespoons flour and cook for 2 minutes on med. heat. heat stirring constantly. slowly add 3/4 cup hot milk (hot so it won't get lumpy). Set aside. (Make sure that the white sauce is hot when adding to the scampi sauce).
For scampi sauce: Heat butter over low heat. add the garlic, Italian seasoning, crushed red pepper and black pepper. cook for about 2 minutes on low heat. add the wine and chicken broth. stir until combined. (I usually cook mine for about 30-40 minutes). add 1/4 cup white sauce and cook till slightly thickened.
Flatten tenders, coat w Wondra flour & brown In a large skillet, in a little olive till nearly done. add the peppers and onions, saute till chicken is done. add the sauce. saute until everything is warmed. add roasted garlic cloves. serve over pasta.
ROASTED GARLIC: Separate head of garlic into individual cloves still in 'paper'. toss in olive oil and wrap tightly in aluminum foil or a small pint sized dish with a lid. bake in 350* oven for 30 minute when the garlic has cooled to the touch you should be able to squeeze it out of the 'paper' shell of the individual cloves.
Submit a Recipe Correction
RECIPE MADE WITH LOVE BY
"This is just as good as the Olive Garden. On a difficluty scale from 1-5 this is a 3 to make. We just love it! Please note: this is an adopted recipe and I hope to make it soonest. If you make it before I do than I would appreciate your feedback. Thanks ! ZWT REGION: Italy."
Join The Conversation
Excellent recipe. I made this recipe three times and it is closest to the Olive Garden's chicken scampi that I have ever made. I cook for a lot of fussy people and they agreed. I did cut back on the red pepper flakes just a bit the last time and it was even better in my opinion. Making it again tonight .

I basically used this as an inspiration rather than strict recipe. I also changed this into a 1 pan recipe (well 2 including the pot to boil the pasta). So I did this as in "meal kit" style meaning I did the prep the day before. That turned this into a 30 minute meal the day of! I sliced thinly 2 red onions & 2 red peppers & miced 10 cloves of garlic. I also sliced 3 (giant GMO) chicken breasts into thin strips then dropped them in a gallon Ziplock. Fast forward to the next day. I put 3 Tbsp. of flour, 1 tsp. of salt, and 1 tsp. of pepper in the Ziplock with the chicken and shook around until evenly coated and set aside. I then put a large pot of water on to boil on a back burner. Next, I dropped 2 Tbsp. of butter in a large skillet and sautéed the onions with some salt and pepper on medium high heat for 7-9 mins. Once cooked until tender and slightly colored, I removed them. Then I did the same to the peppers. Next I added 2 Tbsp. of butter and 2 Tbsp. of olive oil. I then dumped all of the chicken into a single layer in the skillet and cooked for about 10 mins, flipping about 2/3 the way through. Depending on how large or small you cut your chicken, take a piece and cut it to make sure it is cooked through before removing from the skillet. So now you have an empty skillet and a bowl with cooked onions & peppers and a bowl with cooked chicken. Turn the skillet heat DOWN to medium LOW! Next add another 3 Tbsp. of butter. Then add your garlic and cook for about 2 minutes on medium LOW heat. Do NOT burn or you will have a bitter mess! Next add 2 Tbsp. of flour and whisk to make a roux. Cook this for another 2-3 mins. until light golden brown. Now add about 1 c. white wine but not all at once. Add about 1/3 cup and whisk which will form a super thick paste / goo. Once that's smooth, add the next 1/3 cup wine turning it into the texture of glue. Whisk until smooth. Then add the last 1/3 cup. It will still be super thick. Now switch to chicken stock. I just opened a new box and had it in my hand. I added a glug (probably about 1/3-1/2 cup) at a time and whisked in until smooth. I kept adding 1 glug at a time and whisking it in completely before adding another until the sauce was the texture of finished mac n' cheese (or Moray) sauce. Then I whisked in 1 c. of heavy whipping cream. Now I added a little salt, pepper, dried Italian seasoning, and cayenne pepper. Then I tasted it! Critical!!! It needed some more salt and pepper a couple times, using a fresh tasting spoon (spare teaspoon out of my utensil drawer) each time. Now let this simmer on LOW for a few minutes while you cook the pasta. Drop about 1 Tbsp. of salt in the pot of boiling water. Next add 1 lb. of angel hair pasta and cook according to directions minus about 30 seconds. Now when you're getting ready to drain the pasta, dip a coffee mug in the pot and get a big old mug of pasta water. Put this to the side. Then drain your pasta. To assemble: Check your sauce. If it's too thick, add some pasta water or chicken stock until it's slightly thinner than alfredo sauce. Next taste it for seasoning. Once it has enough salt, pepper, herbs, and cayenne pepper, I fold the pasta into the sauce. Then I fold in the onions and peppers. Once everything is thoroughly mixed, I tasted for seasoning. Add salt and pepper as needed as sometimes the onions and peppers need a little. To serve: Scoop out some pasta with sauce and pepper and onions. Top with some of the cooked chicken. Then garnish with some Parmesan cheese. Everyone LOVED this in my family. And this way you don't need to use so many pots and pans (as my two hand are the dishwasher right now and don't like doing extra if I can help it).