Chicken Saute With Mozzarella Cheese (Kasarli Tavuk)
loof751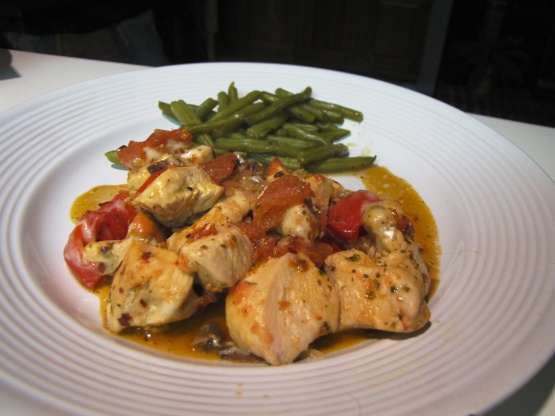 A recipe I found to post for ZWT 6 at TurkishCookbook.com, so untried by me. It is a Turkish chicken recipe that looked very tasty.

Great chicken recipe! I don't care for onions so just used a little extra mushrooms and peppers, otherwise made as directed. I used crushed red pepper flakes and was generous with the amount - this had a great little kick! Gotta love a tasty recipe that can be made with ingredients I always have on hand - thanks for sharing the recipe!
In a medium sized pan, saute the onion with butter and olive oil. Add the garlic and when the smell of the garlic comes out, add the chicken. Cook the chicken until the colour changes. Add the mushrooms, tomatoes, cubanelle pepper (red bell pepper), salt and pepper. Simmer for about 15 minutes with the lid covered. Turn the heat off and sprinkle some oregano all over.
Transfer to the oven proof dish. Sprinkle the shredded cheese and red pepper on top. Preheat the oven to 400 F (200 C) and bake until the cheese melts. Serve with Turkish Pilaf.