CandyTX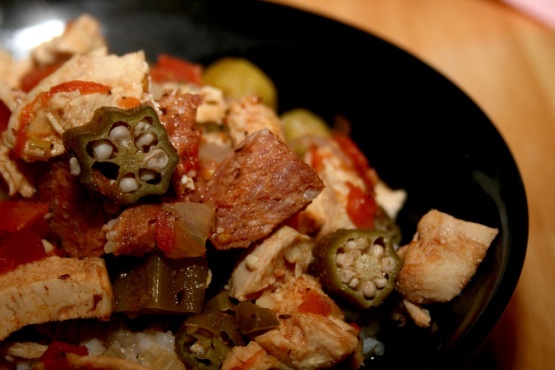 This is a low-fat version of chicken gumbo. Add some red pepper and hot sausage if you prefer it hot.
I will be a little more explainatory about things than simply saying "this is not Gumbo" which I found to sound extremely RUDE! I, too, am from Southeast Louisiana and to tell you the truth, you have the ingredients right (well maybe not the tomatoes but that is personal preference) the only thing you lack is the TRUE indgredient that makes Gumbo, well, Gumbo. This ingredient is Roux. In case you are not familiar with this term, Roux is equal parts of fat and flour that has been browned to a deep dark rich chocolate color then added to the chicken, veggies and stock. Without Roux, you do not have gumbo, you have little more than a really flavorful chicken soup. I hope this helped to explain a little more than that rudeness that Tamzzy tried to pass off as a review.
in pot, put 6 cups water, chicken buillion, tomatoes, okra, spices, chicken meat.
Bring to a boil, then reduce to simmer.
In pan, put oil, sausage, and fresh vegetables.
Cook unitil sausage is browned and veggies are softening.
Add contents of pan to pot of liquid.
Simmer for 20 minutes.
Serve over rice.