Peter J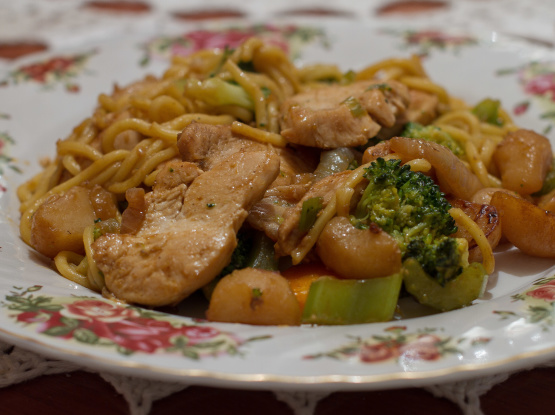 Cut this out of a newspaper ages ago..I like this as the ingredients are easily interchangeable to use up the contents of your fridge. I've posted it as written, but I've never made it the same way twice. I quite often use bean sprouts and finely shredded cabbage, as well as peppers. If your clan don't like too much spice, cut back on the chilli sauce a little, when I do this (for the kids) I add a little more tomato ketchup to compensate.

Great blend of flavours and texture that we loved! Directions and method were perfect, I made using all the listed ingredients apart from using peanut oil instead of bran oil to suit what I had on hand. I also added water to steam the vegies as suggested at step 3 and it left them spot on with the water chestnuts still having crispness.
Place the noodles in a heatproof bowl and cover with boiling water. Leave to stand for 2-3 minutes and use a fork to separate the noodles.
Heat a wok over a medium-high heat. add half the oil and stir fry the chicken in batches for about 5 minutes until just cooked through. Transfer to a plate and set aside.
Add the remaining oil to the wok and add the brown onion, celery and carrot. Stir fry for about 3 minutes until the onion softens then add the chestnuts and broccoli, stir frying for about 2 minutes ( I usually add about a 1/4 cup of water to also steam the veggies and soften them a little more).
Add the garlic, ginger and green onion, stir fry for 1 minute, then return the chicken and noodles to the wok with the chilli sauce, soy sauce and tomato ketchup.
Stir fry for 3 minutes until it's all heated through and serve.