Chicken in Onion Buttermilk Gravy - Slow Cooker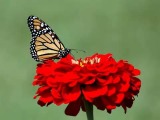 A Southern-inspired dish complete with a rich onion-flavored gravy. Serve this dish with mashed potatoes to soak up the sauce. Recipe is from my "Delicious and Dependable Slow Cooker Recipes" cookbook.
Directions
In a nonstick skillet, heat oil over medium-high heat. Add chicken, in batches, and brown lightly on all sides. Transfer to slow cooker stoneware.
Reduce heat to medium. Add onions to pan and cook, stirring, until softened and just beginning to turn brown. Add salt, peppercorns, and thyme and cook, stirring, for 1 minute. Sprinkle flour over mixture, stir well and cook for 1 minute. Add chicken broth and bay leaf and cook, stirring until mixture thickens.
Pour mixture over chicken. Cover and cook on LOW for 6 hours or on HIGH for 3 hours, until juices run clear when the chicken is pierced with a fork. Stir in peas and buttermilk. Cover and cook on HIGH for 20 minutes, until peas are cooked. Discard bay leaf.