Chicken Enchiladas in Creamy White Sauce
lazyme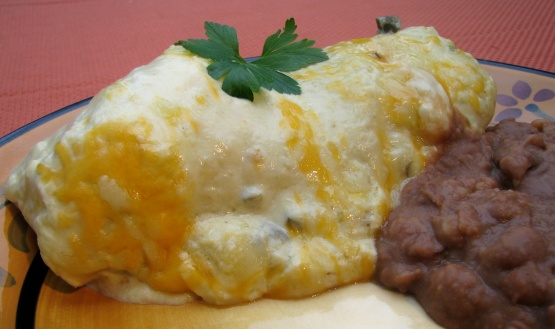 These are wonderful! My mother always makes a half a pan with nuts and a half pan without them. I prefer the texture the nuts give. Add crushed red pepper to soup mixture for more heat.

Made this tonight with my leftover roast chicken meat. Pretty easy and very yummy. Couldn't for the life of me find where the roasted red pepper salsa came into play, but it didn't need it anyway. As a matter of fact, I'd say there was just a little too much sauce. Perhaps next time I'll use only half a can of cream of chicken and maybe a little less sour cream. Loved the nuts in it. OH! And i used corn tortillas, not flour...flour tortillas don't say "enchilada" to me. Will def' make this again. Thanks Little Momma.
In a skillet cook 1/4 cup pecans and onion until onion is tender and pecans are toasted.
In a bowl combine cream cheese, milk, salt and cumin. Add nut mixture and chicken. Stir to combine.
Spoon about 1/3 cup chicken mixture onto each tortilla near one edge. Roll up and place seam side down in a greased 12x7 1/2x2 baking dish.
In another bowl combine cream of chicken soup, sour cream, green enchilada sauce and jalapeno peppers. Pour soup mixture over tortillas .
Cover with foil and bake in a 350 degree oven for anout 35 minutes. (Until heated through).
Remove the foil and sprinkle enchiladas with cheese and 2 tablespoons chopped pecans. Return to over uncovered until cheese is metled.