Chicken Drumsticks With Asian Barbecue Sauce
ImPat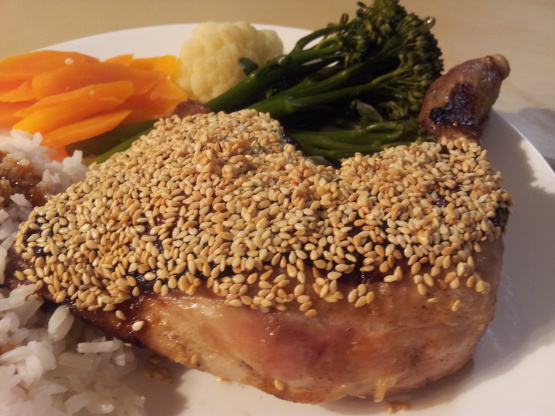 This is a Grace Parisi recipe from F&W Magazine, October 2009 edition. Instead of using a traditional American barbecua sauce, Grace Parisi prepares a sweet, sticky, slightly fiery version using Asian ingredients, like chile sauce, hoisins sauce, rice vinegar and ginger. Wine suggestion: Ripe, spicy Malbec from Argentina 2007 Bodega Septima. From: 15 Rules for Great Wine and Food Pairings, Published October 2009.

Top Review by ImPat
I used a chicken Maryland (leg and thigh intact) which needed 45 to 50 minutes to cook through at 175C fan forced, I baked for 30 minutes and then spooned some sauce over and returned to the oven and repeated after 10 minutes and once cooked dipped into the toasted sesame seeds. I was a little stingy with the sauce on the chicken as I wanted to keep some to put over the rice so in future I will make more sauce when serving with rice. The chicken was flavoursome and beautifully moist. Thank you Manami, made for Name that Ingredient tag game.
Preheat the oven to 425F°.
In a large bowl, mix the vegetable oil with the five-spice powder.
Add the chicken, season with salt and pepper and toss.
Arrange the chicken on a foil-lined baking sheet.
Roast for about 35 minutes, turning twice, until cooked.
Meanwhile, in a blender, combine the hoisin sauce, chile sauce, rice vinegar, stock, ginger, garlic and sesame oil and puree until very smooth.
Transfer to a saucepan and simmer until slightly thickened, 5 minutes.
Transfer the chicken to a bowl and toss with the sauce, until completely coated.
Preheat the broiler and position a rack 8 inches from the heat.
Return the chicken to the baking sheet and broil for about 10 minutes, brushing with the sauce and turning occasionally, until glazed and sticky.
Add the sesame seeds to a bowl.
Dip the chicken in the seeds to coat; serve.