Prep 30 mins
Cook 15 mins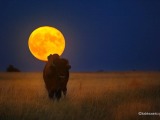 This is a chicken crepe recipe I found in a old cookbook at home, and thought you might enjoy, so here it is! :)
Directions
In medium saucepan melt butter and saute onion until tender.
Whisk in flour.
Add stock, blending well.
Season with salt and basil.
Stir in mushrooms.
Add heavy cream and chicken and simmer about 1 minute or until warm.
Fill and roll crepes with chicken mixture and place in a 11 1/2 x 8 inch casserole pan.
Cover and bake at 350 degrees for 15 minute.
Garnish with cheese, sour cream and fresh parsley.
Reviews
Most Helpful
Lovely! I used plenty of fresh basil, some garlic and seasoned salt to spice it up. Delicious.
This was great, definitely will be making it again :)
I agree that the chicken needed more kick to it. It had potential, with the chicken and mushrooms, but it needed something more.