karen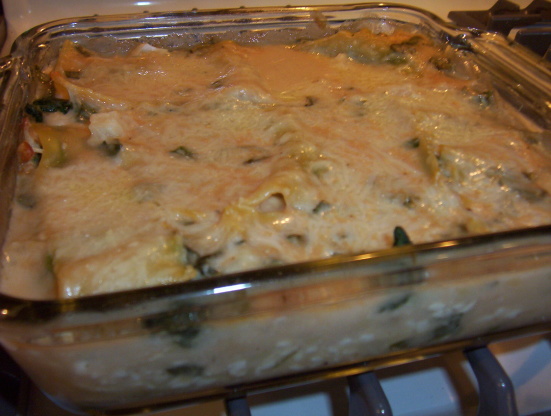 I'm not sure where this recipe came from but it is absolutely wonderful. DH loves this and its a good way to get him to eat spinach.

Top Review by KeyWee
You're right! This is absolutely delicious and I have been making it for years. It is from a cookbook I have called Betty Crockers Recipes for Today (1988). When I make this, I don't change a thing (and it IS a good way to sneak in the spinach - I love it but DH does not!). Thanks for posting - now I can add this to my shopping list right off of the Zaar!
Heat butter in 2 qt saucepan over low heat until melted.
Add garlic.
Stir in flour and salt.
Cook, stirring constantly until bubbly.
Remove from heat and stir in milk and broth.
Heat to boiling, stirring constantly.
Stir in mozzarella, 3/4 cup Parmesan, onion, basil, oregano, parsley and pepper.
Cook over low heat stirring constantly until cheese is melted.
Spread 1/4 of the cheese sauce (about 1 1/2 cups) in ungreased 13x9 dish and top with 3 or 4 noodles (cooked or uncooked, your preference), overlapping if necessary.
Spread 1/2 of the cottage cheese over noodles.
Repeat with 1/4 of cheese sauce, 3-4 noodles, and remaining cottage cheese.
Top with chicken, spinach, 1/4 of cheese sauce, remaining noodles, and remaining cheese sauce.
Sprinkle with 3/4 cup Parmesan and 1/4 cup parmigiano-reggiano cheese.
Cook uncovered at 350°F 20-30 minutes until nice and bubbly.
Let stand 10 minutes before cutting.