Chicken Cheese Lasagna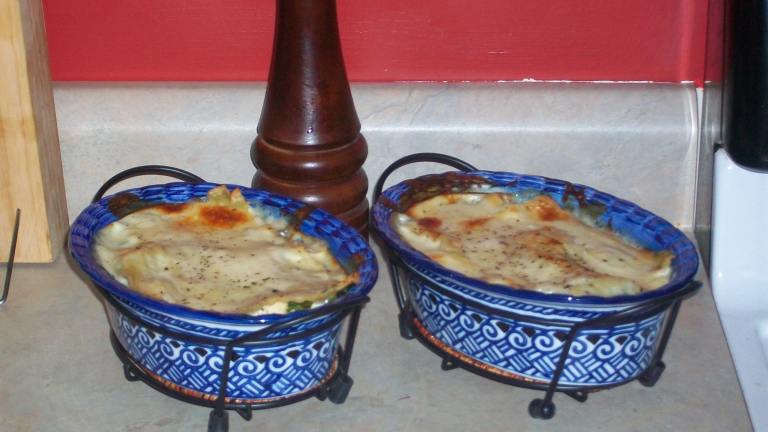 ingredients
2

cloves garlic, crushed
1⁄2 cup flour

1

teaspoon salt

2

cups milk

2

cups chicken broth

2

cups mozzarella cheese, shredded
1⁄2 cup parmesan cheese, grated

1

medium onion, chopped (approx 1/2 c)

1

teaspoon basil
1⁄2 teaspoon oregano
1⁄2 teaspoon pepper

8

ounces lasagna noodles, cooked (approx 9-12)

2

cups cream-style cottage cheese

2

cups chicken, cooked, cut up

2

(10 ounce) packages spinach, chopped, thawed & well drained
1⁄2 cup parmesan cheese, grated
directions
heat margainr in 2 qt saucepan over low heat until melted.
add garlic. stir in flour and salt. cook, stirring constantly until bubbly.
remove from heat and stir in milk and broth.
heat to boiling, stirring constantly.
stir in mozzarella, 1/2 cup parmesan, onion, basil, oregano and pepper.
cook over low heat stirring constantly until cheese is melted.
Spread 1/4 of sauce in ungreased 13x9" dish and top with 3 or 4 noodles, overlapping if necessary.
Spread 1/2 of cottage cheese over noodles.
repeat with 1/4 of cheese sauce, 1/2 of chicken, 1/2 of spinach, and another layer of noodes.
Then remaining cottage cheese, 1/4 of cheese sauce, remaining chicken and spinach, and remaining noodles.
Cover with remaining cheese sauce and 1/2 cup parmesan.
Cook uncovered at 350 20-30 minutes until nice and bubbly.
Let stand 10-15 minutes before cutting.
Submit a Recipe Correction
Ok. Hubby really liked it, but I wasn't too big a fan. I felt like it was missing something. I think it would be absolutely fantastic with the addition of cream cheese to the cottage cheese/spinach part (I combined the two to make it spreadable along with an egg). I like a richer sauce and I think that that would taste amazing. I don't think the chicken is necessary and I will omit the chicken and the chicken broth next time. Thanks for sharing. It's a great base to start with.

our family loved this recipe. we tried to stay toward the fat free side of ingredients. we can be pretty hearty eaters but were able to get way more than 6 servings out of this recipe; something for those looking at nutrition facts. we also substituted french cut green beans for lack of the spinach. Thanx for the recipe Cheryl!