diner524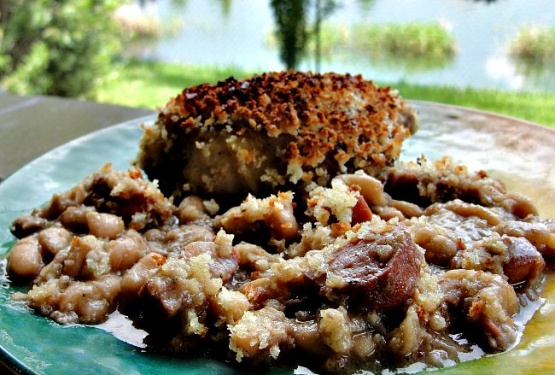 This is a southwest France classic. It's a rich, hearty stew. Traditional cassoulets can take days to make. Here, Sara Moulton created an easier version for the regular home cook.
This is delicious!! I made this using two good sized chicken thighs and then cut all other ingredients in half. I loved the ease of using canned beans, so good and quick. I loved the crunchy crumbs on top too. The chicken was tender and moist. My favorite part was the sausage with the beans. Next time I might just leave out the chicken and use more of the sausage. Also was worried about the wine being very prominent in flavor, but it wasn't. Thanks so much for sharing the recipe Kathy!! Made for Culinary Quest 2015.
Heat 1 T olive oil in a large skillet with an ovenproof handle, over high heat until hot. Reduce the heat to med-high. Season the chicken with salt and pepper to taste and add it to the skillet, skin side down; cook for 3 to 4 minutes or until browned. Turn the chicken and cook the other side for 3 to 4 minutes or until browned.
Meanwhile, finely chop the onion (about 1 C). Finely chop the rosemary (about 1 1/2 t) and the thyme (about 1 1/2 t). Combine the rosemary and thyme in a bowl. Press the garlic (about 1 T plus 1 t) into the bowl. Rinse and drain the beans then mash 1 C of the beans into a separate small bowl with a fork.Set the rest of the whole beans aside. Cut the kielbasa in half lengthwise and then crosswise into 1/2 inch thick pieces.
Remove the chicken to a plate and drain off all but 1 T of the fat from the skillet. Reduce heat to med-low and add the onions and cook for 5 minutes or until it has softened. Add the herb and garlic mixture and cook for 2 minutes. Add the red wine and simmer over low heat until it has reduced by half.
Return the chicken to the skillet along with any juices that have accumulated on the plate. Add the kielbasa, chicken stock, both the mashed beans and the whole beans and the mustard. Bring the mixture to a simmer. Cover the pan and simmer for 15 minutes, or until the chicken has just cooked through. While the chicken is cooking, preheat the broiler.
Toss the bread crumbs with the remaining 1 T olive oil. Remove the lid from the skillet and season the mixture with salt and pepper to taste. Sprinkle the bread crumbs evenly over the top. Put the skillet under the broiler, about 4 inches from the heat source, and broil for 45 to 60 seconds, or until the crumbs are golden. When you serve the cassoulet, sprinkle the toasted bread crumbs over each serving.