Sara 76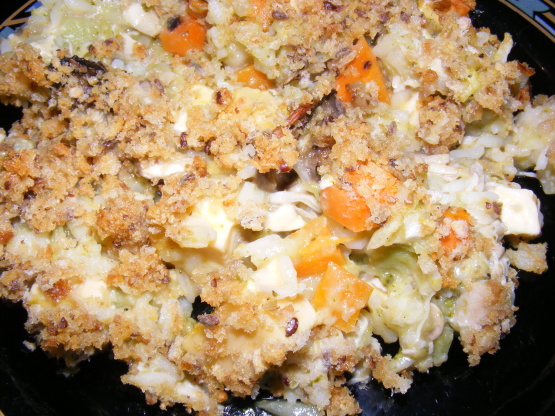 This is a modification of a recipe I found online. I played with it a bit until I came up with something my family really enjoyed! The original was a sidedish, but with some chicken added, and fresh mushrooms, it makes a quick and delicious meal.

This recipe is very flexible, I've changed out the veggies called for and put the equivalent of frozen mixed vegetables and it still turns out great. I do add garlic or other spices because without it's a little bland but toss in whatever you like it's a very forgiving. I have also put it in a tin (from the family dollar store) and frozen it. To bake all you need to do is thaw it and bake as directed or I just put it in a cold oven and let it warm up with the oven although you do have to watch it because the timing is slightly different each time I bake it, depending on if I had it in the deep freeze or if I had it in my regular fridge/freezer. But it's very hard to mess up on this one!
Mix all ingredients except the breadcrumbs, and pour into a casserole dish.
Top with breadcrumbs.
Bake at 180C for 45 minutes.
Let stand for 5 minutes before serving.