loof751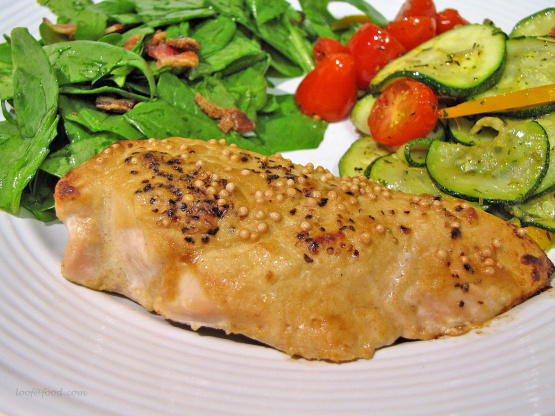 Who says dinner has to be a hassle. This chicken is wonderful and ready to serve in 30 minutes. Serve with rice and side salad.

I enjoyed this but my husband did not. It was a little on the bitter side for him, I think. The crunch of the mustard seed was nice. Maybe I'll try it with a sweeter mustard next time or mix in some sweet pickle brine instead of broth/wine.
Heat oven to 400 degrees.
Spray a 13x9x2 inch pan with nonstick cooking spray, set aside.
In small dish, mix the mustard, oil and wine.
Place the chicken in pan and brush with mustard mixture.
Sprinkle with pepper and mustard seed.
Bake uncovered about 30 minutes or until juice of chicken is no longer pink when center of thickest pieces are cut.
Transfer to serving dish and garnish with fresh parsley.