Chicken, Bacon and Corn Chowder
2Bleu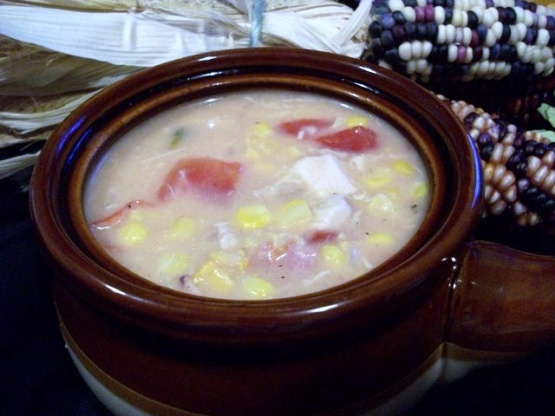 I recently made chef #157425 wonderful Chicken & Corn Chowder and it is the base for this version. We loved the spicy flavors of the Rotel and the smoky taste of the cheese. Using the Green Giant brand, the whole kernel corn turned out slightly crisp but cooked through, which is what we were looking for. This is also a quick weeknight meal to put together for your family.

have made this several times, and it's a favorite among all who have tried it. Can't keep it in the house!
In a large Dutch oven over medium heat, melt butter.
Add onion, garlic and jalapeño pepper and saute for 3-5 minutes, or until vegetables are soft.
In a small bowl, mix soup and broth together until smooth.
Add soup mixture, Rotel, corn, bacon and chicken to the vegetables and cook for 20-25 minutes, stirring frequently.
Add milk and cook for another 5-10 minutes.
Just before serving, add the cheese and lots of fresh ground pepper to taste and heat until the cheese is melted.
Serve warm with cornbread or fresh hot dinner rolls and a salad.