Chicken and Black-Bean Guacamole Tostadas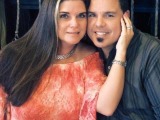 This dish comes together in no time flat, especially if you have leftover chicken on hand.
Directions
Place avocado in medium bowl.
Add lime juice and mash until almost smooth. Mix in beans and green onions.
Season guacamole to taste with hot sauce, salt and pepper.
Combine shredded chicken, tomato, cilantro and cumin in small bowl.
Season chicken mixture to taste with lime juice, salt and pepper.
Arrange tostada shells on plates.
Top with lettuce, guacamole and chicken mixture.
Sprinkle with goat cheese. Spoon salsa over and serve.
Most Helpful
Yum. I baked the chicken (sprinkled with fajita seasoning) the night before, so these meal came together in 15 minutes. I baked corn tortillas for about 10 min, to have "un-fried" tostadas. I warmed & mashed the black beans, and used them as the first layer on the tostada, instead of mixing into the guacamole. DH & I also added a dollop of sour cream.

Shockingly good! I just tagged this in the game room because I knew I had all the ingredients in the fridge but I had no idea how much my BF and I would love it! I used monterey jack for the cheese (personal preference). This would make a great summertime meal as it is served cold/room temperature. You did it again Juenessa- Another 5 star recipe! Edit: I forgot to mention that I made my own tostada shells by frying corn tortillas in about an inch of vegetable oil until golden on one side and then flipped to the other side until golden.

This recipe was wonderful and very easy to prepare. Very refreshing for a hot day. Leftovers were just as good. Thank for the post!