Prep 10 mins
Cook 40 mins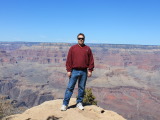 I make this when my wife is in need of some comfort food. It's one of her favourites. I use all frozen diced vegetables to make the prep time quick and easy. This is really a simple way to make this dish.
2 cups diced onions
1 cup diced green pepper
1 cup diced red pepper
2 (10 ounce) cans cream of chicken soup
1 cup milk
3 cups frozen mixed vegetables (peas, carrots etc.)
2 cloves garlic, minced
2 tablespoons olive oil
Directions
Cut up chicken into bite size pieces.
Heat 1 Tbsp of oil in a large skillet on medium high heat.
Add chicken and stir fry until no longer pink.
Remove from skillet and set it aside.
Add 1 Tbsp oil to skillet on medium high heat.
Add garlic and brown for a minute.
Add onions and saute for 2-3 minutes.
Add peppers and saute an additional 5 minutes.
Return cooked chicken to skillet.
Add in chicken soup and milk.
Reduce heat to a simmer.
When mixture begins to bubble, add in mixed vegetables and simmer approx.
15-20 minutes.
Serve over rice.
Most Helpful
Excellent! This is one of my wife's favorite meals, so I went searching for a good one... I got more than I bargained for, since this is a wonderful and easy recipe. :)

Hi! I was specifically looking for a chicken a la king recipe and found this one and decided to try it because it had ingredients in it that my family likes. I followed the recipe pretty closely, only I used only red pepper and made my own white sauce since I didn't have cream of chicken soup on hand. I think next time, I may cut back on or leave out the garlic because it seemed to overpower the flavor and a garlic flavor isn't what I was looking for in a chicken a la king recipe. It was yummy and my 7-year old said as she was clearing her plate from the table, "...that was so good!" I'd like to try it again sometime! Thanks, Paul, for a delicious alternative to chicken!
Wow! this is really good! followed the recipe exactly, and I want to make it again 2 nights in a row, this is soooo yummy! thanks for the recipe.