wyojess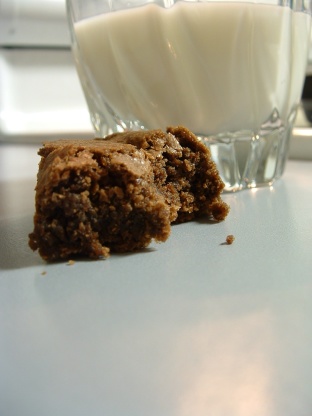 Nice, chewy brownies. Great hot out of the oven or cooled! Double for 9x13 pan. Substitute 1/2 c. choc. chips, m&m's, reeses, etc. for nuts! See Chewy Brownie Mix to save you time. This is a adaption of the brownie mix recipe (turned into a single batch).

at first I thought the mix would be way to dry it seemed so crumbly before I baked, but after baking and cooling they are delicious!!
In a large bowl, combine flour, baking powder, salt, sugar and cocoa.
Using a pastry blender, cut in shortening.
Add eggs, vanilla and nuts to flour mixture and stir until combined.
Bake 350 degrees in a greased 8x8 pan 20-25 minutes or until the top looks done (don't overbake -- better a little underbaked).
Enjoy!