loof751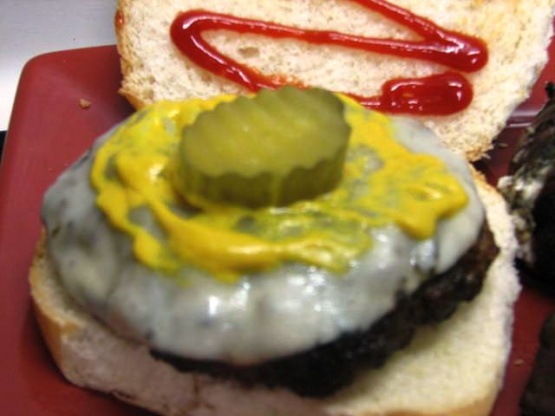 I tried these one night when I had defrosted some ground meat and wanted flavourful burgers. The burgers come out quite large so make sure you get the good kaiser buns!

Awesome pork burger - used minced garlic and red onion in place of powdered, home made whole wheat bread crumbs. The pickle adds the crunch. Indoor grill 7 minutes was too long. I will shorten the grill time next time but it was still moist and very filling. You won't miss not eating beef!
Mix all ingredients except for Swiss Cheese in a bowl.
Form into two large patties.
Place in fridge for 30 minutes or so to firm up so they don't fall apart when cooking (optional).
Grill on barbecue, approximately 7 minutes per side on medium direct heat.
Right before they're cooked, top each burger with a slice of Swiss Cheese.
Serve on toasted hamburger buns with mayonnaise, mustard and dill pickle.