When I first read the words "Cheeseburger Soup" on the menu of our local deli - my thought was YUCK! This was the special every Friday! Well one Friday I decided to broaden my taste buds and give it a try! It was sooooo good! Being the cook that I am, I just knew I could make this on my own. So here is my version and If I do say so myself - "it's better than the deli's" but shhhh....don't tell them!!!!!
Directions
In a large pot, brown ground beef and onion.
Add broth, celery, carrots, parsley and potatoes.
Bring to a boil, and then simmer until potatoes are tender, about 10-12 minutes.
In a saucepan, melt the butter and stir in flour.
Add the milk, stirring until smooth.
Gradually add milk mixture to the soup, stirring constantly.
Bring to a boil and reduce heat to simmer.
Stir in cheese; continue to stir until cheese is melted then serve.
Do not boil.
Most Helpful
This was great. My 5 year old even ate 2 bowls. I did add a can of Rotel and replaced some of the cheddar with Monterrey Jack cheese with Jalepenos. We like spicy food. It was so good my DH volunteered to bring some to work today for lunch. AMAZING!!
This soup is AMAZING! I made a couple of adjustments but pretty much stuck to the recipe. I made is for four, added regular and sharp cheddar and 2oz of Velveta. I also added a little beer, onion powder, seasoning salt, pepper, and Worcestershire sauce. Came out wonderful! Will be keeping this in my repertoire. OH! I also used frozen hash browns instead of regular potatoes.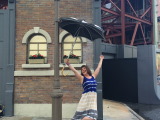 An all around good family meal. Fixed a green salad to have along with for a soup and salad duo. A crusty bread would be great with it, but there were enough carbs in the soup alone for me. Hearty, warm, filling. Great for when the weather gets cold and you're not in the mood for chili. I made it as described other than adding a few seasonings. Garlic powder, onion powder, salt, pepper and a little bit of chili powder. Yum! We'll be making this one again.