Cheese-Topped Sweet Potato Casserole
Nimz1466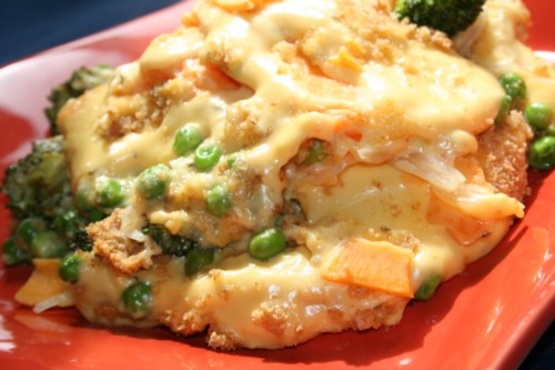 Sweet potato, the best thing in the world.

I had some trouble with this recipe so I had to adjust some portions. I used all of the ingredients listed with the except of the soy milk, which I replaced with evaporated milk. I followed the directions to the point of making the sauce. I used 1/4 cup of butter for the 1/4 cup flour and added the stock and evaporated milk and noticed this to be very thick so added extra stock then the thyme. Then I thought where is the cheese and noted there was no cheese mentioned so I cubed about 4 oz of velveta cheese, added it to the mixture until melted then poured this over the veggie mixture and sprinkled with 1/4 cup bread crumbs which was plenty for this dish. Then I drizzled the top with 2 tablespoons of melted butter and placed it in the oven for about 40 minutes at 350 degrees or until the top was nicely browned. The combination was really quite good, but the recipe by itself is very poorly written, IMHO.
Coat overproof 6-cup-dish with cooking spray. Cut Sweet Potato into 5-mm slices.
Combine with garlic, onion and stock in a pan. Cover and simmer until sweet potato is tender.
Place sweet potato, peas and broccoli in prepared dish. Melt Butter in pan and stir in flour. Stir over heat until bubbling. Remove from heat and gradually stir in combined milk and extra stock. Stir over heat until boiled. Stir in herbs.
Pour Sauce over sweet potato. Top with breadcrumbs.