Cheese and Garlic Drop Biscuits
Prep 10 mins
Cook 10 mins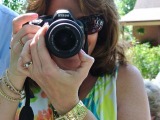 These are very similar to Red Lobster's Cheddar Bay Biscuits but a lot better than the recipes that start with Bisquick, in my opinion. The kids adore them.
Directions
Combine flour, salt, baking powder, cream of tartar, sugar and 1/8- 1/4 teaspoons garlic powder in a mixing bowl.
Cut in shortening using a pastry blender.
Mix milk and then cheese into mixture with a wooden spoon.
Drop by large spoonfuls onto greased baking sheet.
Bake at 425°F for 10-12 minutes.
Mix melted butter and 1/8 teaspoons garlic powder together and brush on warm biscuits as soon as you remove them from the oven.
Reviews
Most Helpful
Wow! These are amazing I made 50 biscuits. I am giving some to friends and family. I will definitely be making these again. I added a cup of chopped ham. It really was a great addition. Marg, another great recipe! Thank you so much.
Wow! I thought I had a great recipe for buscuits...but mine doesn't compare! Thanks for sharing the recipe to these scrumptious morsels. My kids couldn't get enough of them and my DH was very impressed! Note that I changed out the shortening for butter as I'm not a fan of shortening. As well the bake time seemed a bit off, perhaps its my oven but they seemed to have need a bit more time perhaps closer to 15 minutes.
Excellent! Light, fluffy and delish, thanks for sharing. Like another reviewer, I also skipped step 6 and baked at 400 for 10 minutes. Yum!