Cheddar Cheese and Broccoli Appetizers
Bergy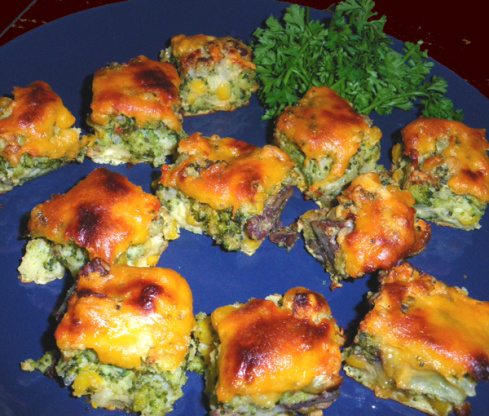 I recently had this at a friend's house, and it was the most popular appetizer there!

Edible but could use some tweaks. Cheese definitly will not brown like the photo of the small squares you see in the one photo in the 2 or 3 minutes suggested. You would need to use your broiler or a torch or bake longer at higher temp to brown the cheese. I suppose it could depend on the cheese you use. They look like they would be great finger food in that photo but you will most likely need to eat them with a fork on a small plate. They will cut into squares or triangles but are more the consistancy of quiche. I read a review that stated they were a little bland and I agree. I would add maybe 1/4 to 1/3 more cheese but place it over the broccoli mix in addition to the cheese on top. I love walnuts but this might be better without them or maybe some chopped cooked bacon instead. The walnuts did not make it better. I originally chose to make this recipe because I thought it would be a good way to make use of the walnuts I already had on hand. I'm not big on salt and feel most recipes don't need more salt but this one does. Bacon instead of walnuts would add more salt flavor without adding straight salt. I used salted butter but it could still use more salt. I read another review that mentioned the top having pools of oil. Mine had pools of oil from the melted cheese too when it came out of the oven. While it was still hot I carefully soaked up as much of the pools of oil as I could with a paper towel. I also might use more biscuit mix to give them a little more body and maybe a slightly thicker biscuit layer. You can try this recipe exactly like it is but most likely you will end up thinking you should have used some or all of my suggested tweaks. I wrote this review so the next people that attempt this recipe are not as disappointed/unimpressed as I was.
Heat oven to 375.
Grease a 9x9x2" pan.
Mix the broccoli, corn, onion and walnuts.
Place in the pan.
Beat the remaining ingredients except for the cheese until smooth, stopping frequently to scrape down the sides of the mixer if necessary.
Pour evenly into the pan on top of the vegetable mixture.
Bake until a knife inserted into the center comes out clean, about 23-25 minutes.
Sprinkle with the cheese.
Bake until the cheese is melted, 2-3 minutes longer.
Cool for 30 minutes, then cut into triangles or squares.