Pamela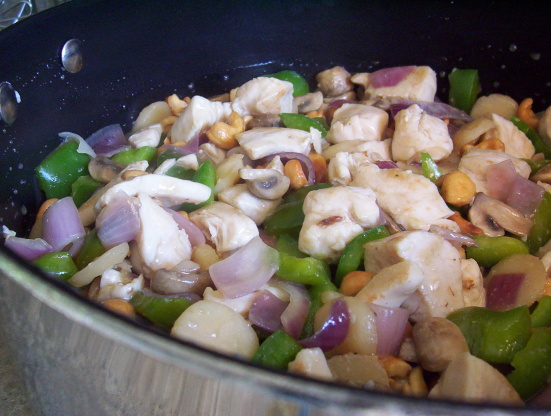 Since making this recipe, I never order it out. This is so much better than any chicken cashew I have tried at a restaurant.

I agree this is a wonderful recipe -- quick prep, great taste and don't skimp on the cooked onion -- but it comes almost word for word from Betty Crocker's New Cookbook (1996). And canned mushrooms, who are we kidding? Give credit where it's due.
Mix broth, cornstarch, soy sauce, ginger and pepper sauce.
Heat wok or large skillet.
Add 1 tbsp of the oil and coat the surface.
Add chicken and stir-fry till done.
Remove chicken; set aside and keep warm.
Add remaining 1 tbsp oil to wok or skillet.
Add bell pepper, onion, water chestnuts and mushrooms; stir-fry 4 to 5 minutes.
Add cornstarch mixture to vegetables.
Cook and stir about 1 minute or until sauce thickens.
Stir in chicken and cashew coating them with the sauce.
Garnish with green onions.
Serve with rice.