Carrot and Raisin Salad With Pineapple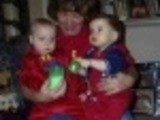 I have had this recipe for so many years that I do not remember where or whom I originally got it from. It is a very tasty recipe - which is why I have kept it for so long.
Directions
Toss raisins, carrots, and pineapple together lightly; set aside.
Stir together mayonnaise, lemon juice, salt and sugar and add to the raisin mixture.
Refrigerate until served.
Reviews
Most Helpful
This is a very good recipe. I love carrot and raisan salad. I did add in some apple to give it a little more crunch. It was great with The copycat Chilis Ribs TSR Version of Chili's Grilled Baby Back Ribs by Todd Wilbur. Thanks!!!
This is DH's favorite salad. This is very close to a recipe I have been using for years. I made it using fresh pineapple which I chopped in the food processor and I 'plumped' the raisins in the microwave before adding to the salad. Left off the salt and used Splenda for the sugar. I usually add chopped pecans and left those off this time; however, will add them next time. Thanks Trisha :)
Really good! Hubby raved over it.