Carrot and Raisin Salad With Pineapple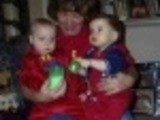 I have had this recipe for so many years that I do not remember where or whom I originally got it from. It is a very tasty recipe - which is why I have kept it for so long.
Directions
Toss raisins, carrots, and pineapple together lightly; set aside.
Stir together mayonnaise, lemon juice, salt and sugar and add to the raisin mixture.
Refrigerate until served.
Reviews
Most Helpful
I've never had this salad with pineapple in it. I thought it was very good. Thanks for sharing the recipe. I will definitely make this again.

This was absolutely amazing! I mean, I'm talking WOW!!! Even my three year old was wolfing it down! Soooooooooo good! Will make again! Thanks for the recipe!
Nice salad. We liked the pineapple in it. It added extra flavor. Thanks for posting.
Summer Central