Carrabba's Mama Mandola's Chicken Soup
littkerl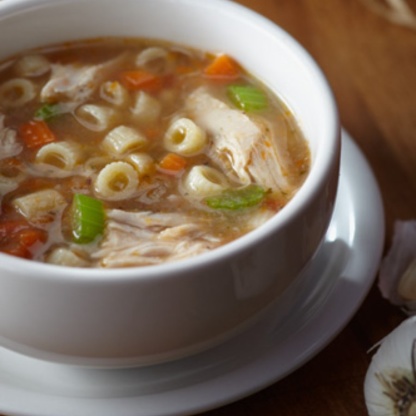 Hey guys, I just wanted to let you know that I tried to make this soup today, and while it isn't exact, it is pretty darn close. The recipe posted on here is way too simple for a complex soup like this... therefore, I will list my modifications and additions. Like I said, it isn't exact, but it is delicious. I will also warn you, it took me about 6 hours to cook, not because it's difficult, but because soup always tastes better when it has a long time to cook down. Okay, I used 6 boneless skinless chicken breast and shredded it instead of using a whole bird. Instead of water, I used 4 large cans of Swanson chicken broth and half a jug of V8 hot & spicy tomato juice (if you're like me and hate tomatoes, the V8 juice can be used as a substitute). In place of green pepper, I used one 12oz. jar of diced jalapeños. I used the amount of carrots, onions, potatoes and celery listed above. I put 2 tbsp minced roasted garlic in. Add one tsp ground cumin, 1 tbsp hot chili powder, 3 tbsp ground black pepper. To give it a nice peppery flavor without loading it with pepper, I put a handful of whole peppercorns in a coffee filter and hung it from the side of the pot (like a tea bag) and let that infuse into the broth. You can also add a few tbsps of chicken bullion for a little more flavor and saltiness (I did because I love salty soups (: ). Okay, the way I did it was put 3 of the 4 cans of chicken broth in a large soup pot, ad half the jug of V8, put carrots in right away since they take a while to soften. Next, chop up your onion and celery and add it in. Put jar of jalapenos in and add all seasonings, bullion and peppercorn teabag. Let simmer on medium for 2 hours. Next, add your chopped potatoes and let those simmer in for another 30-45 mins. While all of this is going on, make sure your chicken is baking and then pull it apart. Before adding the chicken, use a potato masher to mash your veggies up, but don't mash them up too much or else it might get mushy. After you've done this, add chicken and let simmer another hour. You can put noodles in, or what I love to do is make spaetzles instead. Spaetzles are dumplings. Spaetzles are super easy to make, all you need are 7 extra large eggs, 2.5 cups all-purpose flour, and 1 cup 1 tbsp of sour cream. Mix all ingredients in a bowl, you can add salt, pepper, parsley, and garlic powder for added flavor if you like. If you have a spaetzle maker, you can use that, or, the old-fashion way to make them is as follows. Boil a pot of water on the stove, with a little bit of oil to prevent sticking. On a small dessert plate, put a large glob of spaetzle batter. Dip a tablespoon into the boiling water, and then hold plate over boiling water at a slight angle. Begin flicking small drops of batter into the water. Make sure you dunk your spoon in the water every 5-10 spaetzles to prevent the batter from sticking to your spoon. If they are relatively small, boil them for 5 minutes, if they are larger, around 7-8 minutes. Taste one to make sure they aren't chewey. If they are chewey, cook them a little longer. That's all it takes. I have a spaetzle maker and between mixing the batter and boiling them, it's faster than boiling noodles, plus they are way more delicious. I hope you all enjoy this recipe, I am eating it right now and absolutely LOVING it. If you have any questions, please feel free to message me.
Dice celery, carrots, onion, potatoes and bell pepper into 1/4-inch pieces. Chop tomatoes; reserve all juice.
Place vegetables, tomatoes with their juice, chicken pieces, parsley and garlic in a 10-quart stockpot. Add water. Season with salt and pepper.
Slowly bring soup to a boil over low heat. Skim off foam that rises to the surface; may have to skim 2 or 3 times.
Partially cover pot and simmer 2 hours. When soup is finished, remove chicken pieces with a slotted spoon.
Let cool.Meanwhile, mash vegetables in the bottom of the pot with the back side of a large cooking spoon or a potato masher.
When chicken has cooled enough to handle, remove skin and bones and return meat to soup.
Notes: Soup is best served the day after it is made. Refrigerate and remove fat that solidifies on the surface of the soup.
Serve soup with rice or small, stubby pasta such as pastina, tubetti or small elbow macaroni. For better flavor, cook the rice or pasta in the soup when reheating. Add freshly grated Parmesan or Romano cheese, if desired.