Carrabba's Spicy Sicilian Chicken Soup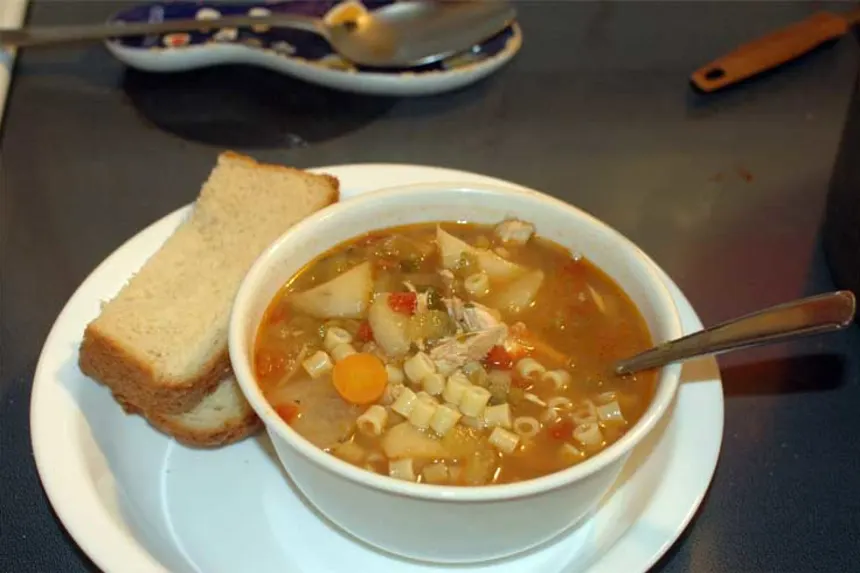 photo by Johncn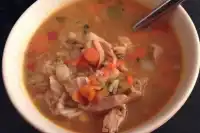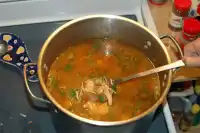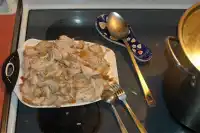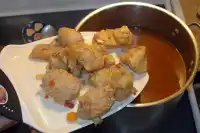 Ready In:

3hrs 15mins

Ingredients:

15

Yields:

1

Can be frozen and microwaved to serve over ditalin

Serves:

12-16
ingredients
3

medium sweet onions
2 1⁄2 medium green peppers

10

hearts celery (I estimated 8 whole stalks, but only had hearts)

8 -10

medium carrots (6 large would be enough)

8

medium sized potatoes, roughly diced (maybe just 4-5 larger Idaho baking potatoes?)

10 -12

garlic cloves

4

quarts chicken stock (2 from boxed broth, 2 from concentrate)

2

(28 ounce) cans tomatoes, 28 oz can and (I used "Generic" Safeway Diced Petite, (1, 1)

1

cup of chopped parsley
white pepper (2 tablespoons total?)
black pepper (1.5 or 2 tablespoons?)
salt (1.5 tablespoon?, and then salted to taste at end)

2

lbs ditalini, as needed when serving (or stubby pasta of choice)
directions
In a large stockpot (16 quart minimum / 20 quart recommended) heat olive oil under fairly low to medium heat.
"Sweat" onion, celery, green pepper and some salt (to draw off moisture) for perhaps 30 minutes -- this is lower than browning, and makes the veggies somewhat translucent. I covered, and mixed every few minutes to prevent browning.
Add carrots, garlic, some white pepper and some black pepper, and continue to heat under "sweat" conditions while mixing now and then.
Add chicken stock, chicken breasts, tomatoes and potatoes -- and of course some more white pepper and black pepper.
Cover and simmer on low heat for 1.5 to 2 hours (or use crock pot?).
Remove chicken and let cool and stand to shred.
Add chopped parsley and return the shredded chicken to the soup.
Salt to taste at this point, and add more white and black pepper if your tongue is not twitching a bit when you sample. ;-).
Simmer while cooking ditalini (or other stubby pasta).
Serve soup over cooked pasta to taste.
Note: Like many soups, this may be better made the day before and then served when needed. We will freeze some for ready-made meals and I think it will work out well.
Questions & Replies

Reviews
Ok, so I am in absolute Carrabba heaven right now! Came out just like the restaurant same texture and all! And it's the first day can't wait to taste tomorrow when the flavor sets. I'm giving some away and freezing the rest. I only made a couple very small changes. First off I used all (nearly) the same ingredients and portions I only followed what another reviewer said about it being too much for one large pot. I think the only pot that this would fit in is a Lobster pot or something. So I used my two largest pots and it was still a bit of a squeeze (I split all the ingredients in the two pots to the letter and cooked them side by side at the same time). That first step of sweating the onions, celery and peppers seemed a bit long however, I think it made the difference since there is not much seasoning -I kept fighting the urge to add more seasonings but i decided I wanted to follow the recipe, stay the course and see the turnout. My main change besides the two pots was the chicken- I used 6 chicken legs (thigh and drumstick) bone-in and I took the skin off it. When it was time to remove the chicken it was falling off the bone very easy to remove and pull the chicken apart (I used tongs to pull them out to help keep it together). My Carrabbas for sure uses dark meat and I enjoy dark meat in some soups and white meat in say a chicken tortilla soup. But that's about it on the changes everything else is true to the recipe. I wish I had the quality fresh made pasta that Carrabba's uses but the Barilla did the trick for the day- Im going to look for fresh pasta next time. But I have to admit it was still so good with out the pasta you could go gluten free and still enjoy it- it still tastes just like it. My final icing on the cake was that cheese that they fresh grate in the soup for you at the restaurant, I bought a fresh shredded blend of romano and parmesan (I really think it needs to be fresh not that stuff they sell unrefrigerated in the can) It melts in and adds that extra Carrabba taste! Superb! Thanks for this post!

 
Tweaks
I was the assistant kitchen manager at Carrabba's for 7 years and I just wanted to add a quick tweak. When you pull the chicken out before you shred it take a potato masher a handheld potato masher and smash the vegetables until you have some small and medium sized pieces that's what we do at the restaurant and then we add the chicken. Also if you make the soup a day in advance it has better flavor.

 

I used 1 tablespoon each black pepper and white pepper and just over 1/2 T salt. I thought it was good, but my husband asked me to cut back on the pepper next time, so will probably do 2 teaspoons each of black and white pepper. I also used 8 chicken thighs which I salted and peppered and then browned in olive oil in a cast iron skillet before adding. Chicken thighs are tasty, inexpensive, and easy to remove the skin and de-bone. Cooking the chicken in the soup with the skin and bone adds flavor.