J-Lynn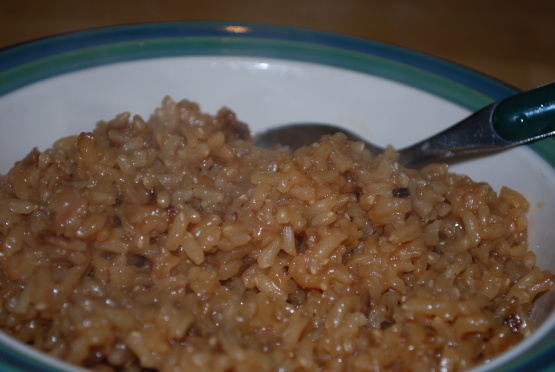 I wanted a rice recipe that was easy and relatively quick to make brown rice more tasty. This is what I came up with. :-) I've used long-grain brown rice and brown basmati rice for this, but you could also use white rice. Great for any meal you would use rice in.

Found this recipe on one of those websites where you search for recipes based on the ingredients you already have in your fridge. I just wanted something cheap and easy to make, but this was so, so, so much better than I thought it was going to be, and super cheap. (Like I said, I just made this with things I needed to clean out of my fridge.) If you have a rice cooker, you really need to make this like now. I didn't use butter, and the chicken broth could easily be substituted with veggie broth, so I think it can be both vegan and gluten free. This would make a fantastic side dish but my boyfriend ate this as a light dinner and were fine, although we did add a little bit of chicken and some mushrooms that needed cooking. Honestly, though, this really doesn't need anything else, although I think this recipe would do well with some experimentation. Maybe we'll serve with some broccoli or asparagus on the side next time. Like a previous reviewer, I really caramelized my onions, and they were sweet and brown and flavorful, but I still think that the brown sugar really sent this over the top. Omit the added sugar if it's really that important to you. Just make sure that you do caramelize your onions--the extra time and effort makes a world of difference. <br/>Seriously. Make. This.
Melt butter in skillet and sauté onions until softened and lightly browned. Add garlic, sauté 1 minute.
Add brown sugar and sauté until caramelized-looking, 3-4 minutes.
Mix rice, broth and onion mixture and cook in rice cooker.
Note: I like my rice slightly crunchy and not soggy so if you like yours softer add 1/4- 1/2 cup of extra broth.