Caramelized Onion Mashed Potatoes
ImPat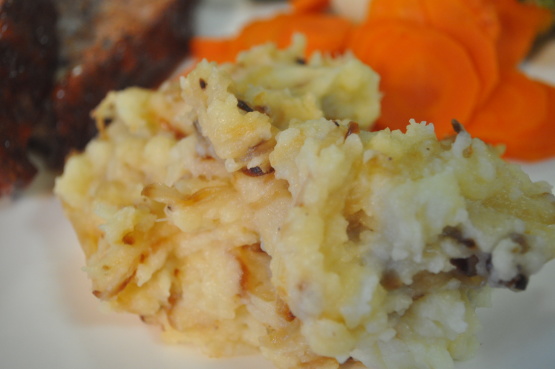 I like potatoes that have add-ins so you do not have to smother in gravy!

Top Review by ImPat
I used Carisma potatoes (a low GI white potatoe) and used no salt for dietary reasons but otherwise followed recipe and was surprised when the DM not only ate her share but came back for seconds (I scaled the recipe back for 3 serves but the DM usually only eats about a 1/3 to 1/2 serve but this time she ate a full serve). thank you AZPARZYCH. made for Please Review My Recipe.
Heat butter and olive oil in a large skillt over medium heat until butter is melted.
Add onions; stir to coat with butter/oil.
Cover and cook 10 miutes or until onions have wilted; stirring occasionally.
Remove cover, increase heat to medium-high.
Sprinkle with sugar; stir to combine.
Cook 25-30 minutes or until onions are deep golden brown, stirring frequently
If necessary, reduce heat to medium to keep onions from sticking.
Stir in 1/2 tsp salt and 1/4 tsp pepper.
*Onions can be made 3 days ahead and refrigerated or 1 month ahead and frozen*.
Place potatoes in large saucepan; add enough water to cover potatoes by 1 inch.
Add 2 tsp of the salt.
Bring to a boil over medium-high heat.
Reduce heat to medium-low to low; simmer 12 minutes or until potatoes are tender when pierced with a fork; drain.
Return to saucepan; cover to keep warm.
Microwave milk and 2 Tbs butter for 30-60 seconds or until butter is melted and milk is hot.
Reheat caramelized onions over medium heat until hot.
Press potatoes through potato ricer into medium bowl or mash with potato masher.
Stir in milk/butter until potatoes are creamy.
Stir in caramelized onions, remaining 1 tsp salt and 1/4 tsp pepper.