Caramelized Chicken Wings
Diana Yen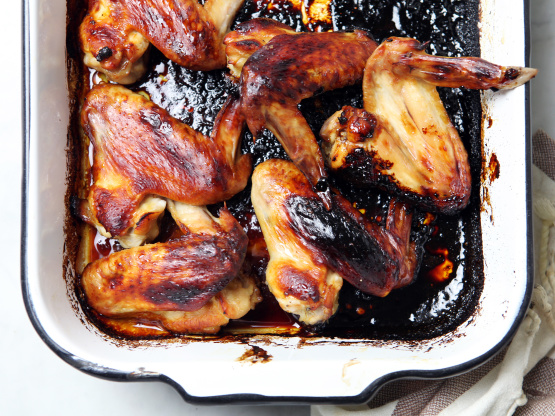 After preparing this recipe many times and following the directions precisely, I've decided to re-rate it with four stars, rather than five. The sauce tastes great and the ease of preparation is good. However, following the recipe directions as written results in the wings "floating" in so much rendered fat that the marinade is completely diluted and the wings are almost "stewed." Thickening and cramelization just don't occur. So, I now put the wings in the oven for about 15 minutes and at the end of that time period, I drain off all the accumulated fat. I then add the sauce, making sure not to "drown" the wings. I turn the wings as they continue to cook and sometimes even adjust the oven to broil for the last few minutes to get the caramelization and sticky texture I want. I dress the wings with some chopped green onion and a few sesame seeds before serving.
Preheat oven to 375°F.
Place chicken in a 9x13-inch baking dish.
Mix the oil, soy sauce, ketchup, honey, garlic, salt and pepper and pour over the chicken.
Bake at 375°F (190°C) for one hour or until sauce is caramelized.